wedding.ESDlife Announces Survey Results of Hong Kong Wedding Spending 2017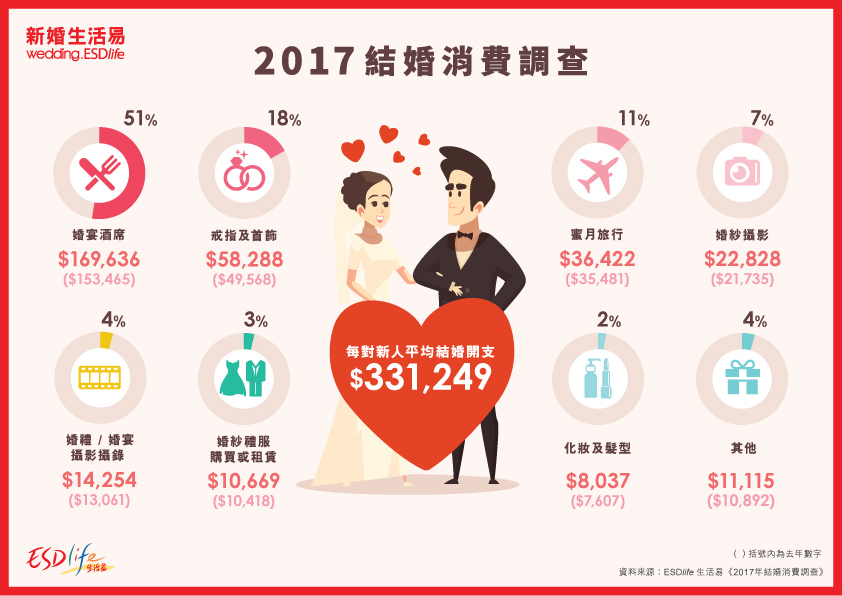 ESDlife Announces 2017 Hong Kong Wedding Spending Survey Results
Overall Wedding Expenditure Hits Record High
Double-digit Growth Recorded for the First Time in 5 Years
Average Spending Reaches $331 Thousands
Approx. 40% Newlyweds Depend On Parents for Housing Assistance
[Hong Kong – 6 December 2017] ESDlife, Hong Kong's No.1 wedding media, is hosting the Bridal Award Ceremony 2017 today in recognition of high quality wedding service providers and brands in Hong Kong. During the event, ESDlife also announces the results of Hong Kong Wedding Survey 2017. This year, the online survey was carried out from 1,401 individuals who are getting married between 2017 and 2019, to understand wedding couples' average expenditures and their wedding spending behavior.
Wedding Couples' Spending Increases by 10% To Reach $331 Thousands
As compared to last year's figures, ESDlife's Hong Kong Wedding Survey 2017 indicates a 10% increase in average wedding expenditure, reaching a new record high of HK$331,249. This double-digit growth is also recorded for the first time in 5 years, suggesting that stability has returned in regards to wedding couples' confidence in wedding spending. Apart from the minor decrease in wedding spending triggered by the economic downturn last year, the overall wedding expenditure has been growing annually for the past 5 years. (See Appendix – Figure 1)
An Estimated Total Wedding Market Expenditure of 16.6 Bn.
Wedding Banquet Expenditure Surges By 11%
According to Hong Kong Statistics and Census Department, there were a total of 50,008 pairs of newlyweds last year. Based on this data, the total amount of wedding expenditure in 2017 is estimated to be HK$16.6 billion. While the majority of expenses on wedding items showed an increase in figures, Wedding Banquet still ranks top among all wedding expenditures, with an average expense of HK$169,636 per couple, and the total market consumption is estimated up to HK$8.5 billion, achieving a double-digit growth of 11%. Followed by Ring and Jewelry, with a drastic 18% increase in average spending to HK$58,288 and an estimated total market consumption of HK$2.9 billion. In addition, Honeymoon (average spending of HK$36,422) and Pre-wedding Photography (average spending of HK$22,828) comes third and fourth and the estimated total market consumptions are HK$1.8 billion and HK$1.2 billion respectively. The top four spending items compose 87% of the total expenditure of a wedding couple. (See Appendix – Figure 2 and 3)
3 Proposal Must-Haves:Engagement Ring, Flower Bouquet, Proposal Kneeling!
According to research findings, majority of respondents believe that marriage proposals are essential (87%), but fewer than 80% have had the actual experience of proposing or being proposed to (76%). Both male and female respondents believe the three crucial components of a marriage proposal should include an engagement ring (97%), a flower bouquet (69%) and their partner kneeling down to show sincerity (65%). Amongst the respondents who believed that engagement rings are must-haves, 60% claimed that they must be diamond rings (59%). Research also indicates that couples on average spend $34,335 on the engagement ring, whereas spending on the wedding ring and wedding jewelry are HK$14,014 and HK$10,049 respectively.
Newlyweds Place High Importance on Wedding Banquet
An Estimated Total Number of Banquet Tables in Hong Kong Reach 920 thousands in 2017
Research shows that over 90% of wedding couples expressed the intention of holding wedding banquet (93%), with 13% holding lunch banquet, 75% holding dinner banquet, and 5% holding both lunch and dinner banquet. Couples choosing to hold lunch banquet have been increasing exponentially, from 8% five years ago, to 13% this year. Research also suggests there is a rising trend of couples deciding to hold wedding banquet at hotels, from 31% last year to 35% this year, while couples deciding to hold wedding banquet at Chinese restaurants have decreased from 51% to 47% (See Appendix – Figure 4). Similar to last year's figure, the average number of banquet tables at a wedding banquet is 20. With reference to the 50,008 pairs of newlyweds last year, total number of banquet tables in Hong Kong is estimated to be 919,648 in 2017.
Betrothal Money Rises From HK$38,888 To HK$39,999
Research results show that the median value of wedding betrothal money has increased from $38,888 in 2015 to $39,999 this year. It can be seen that newlyweds and their parents place high importance on the Chinese symbolic meaning behind betrothal money values. The numbers $38,888 symbolizing 'growth' and 'prosperity' has been adjusted upward slightly to $39,999 which symbolizes 'forever'.
Wedding Cash Gifts for Chinese Restaurant Banquets Continuously Increase and Hits $800
As wedding couples' budgets and overall expenditure rebounds, the Hong Kong Wedding Survey also reflects the rise in wedding cash gifts for banquets. Apart from the cash gift amount for hotels, which remain unchanged ($1,200 for quality hotels & $1000 for standard hotels); the gift amount for standard restaurants has caught up and leveled with quality restaurants, displaying a consecutively increase for the past two years to reach $800 in 2017, indicating the heightened quality of Chinese restaurant banquets in Hong Kong.
In addition, the wedding cash gift guideline for Chinese & Western lunch banquets has increased by 20%, from $500 last year to $600 this year. In recent years, cocktail parties have become a more popular form of wedding celebration, in which the survey reports that the median value of spending on cocktail parties is $500. (See Appendix – Figure 5)

One Third of Newlyweds Live With Parents after Marriage
More Than Doubled In The Past Ten Years
While Hong Kong housing prices remain sky high, the number of couples who will remain living with parents after marriage as surged from 15% in 2007 to 32% in 2017, reflecting that a third of newlywed couples will not be able to enjoy a world of only two people. For couples who will live with their spouse after married, 52% will be living in purchased property while 48% will be in rental property. Research further shows newlywed couples struggle to rely on their own ability to purchase property, approximately 40% of newlyweds rely on their parents assistance with a down payment on their home (36%), paying for 61% of the down payment. The phenomenon reflects that current property prices have exceeded the newlyweds' financial ability to pay.
Newlywed Couples Face Heavy Household Expenses
Apart from individual wedding item expenditure, this year's research further explored wedding couple's expenses after married. Results show that for couples who are only living with spouse after married, spend an average of $ 5.15 million on private housing purchases, and $11,553 on rental housing per month. In addition, wedding couple would spend extra on decorating their "cosy nest", spending an average of $185,632 and $77,140 on renovation and furniture respectively. Wedding couples are facing heavy household expenses after married. With reference to the 50,008 pairs of newlyweds last year, total market consumption on newlyweds' housing renovation and furniture are estimated to be $6.6 billion and $3.1 billion respectively in 2017.
Appendix
Figure 1:Past 5 Year Trend Of Average Wedding Expenditure

Figure 2:Comparison of Wedding Items Expenditure in 2017 and 2016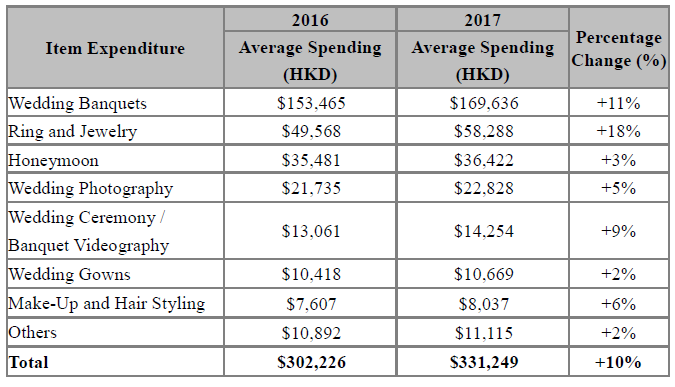 Figure 3: Estimated Total Market Spending on Wedding Items in 2017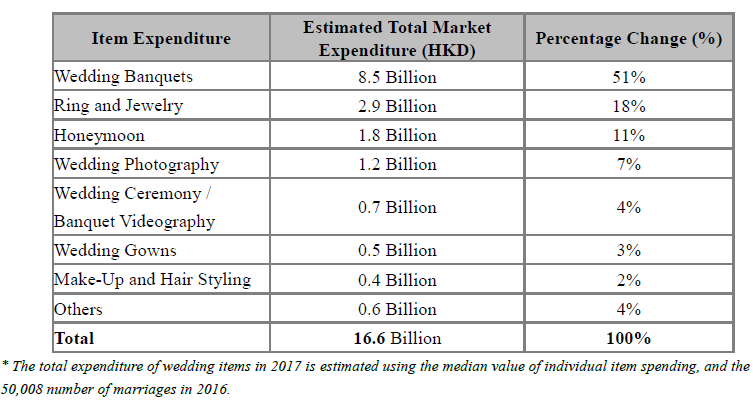 Figure 4:Trend of Wedding Banquet Venues

Figure 5: Hong Kong Wedding Cash Gifts Guideline (Median Value)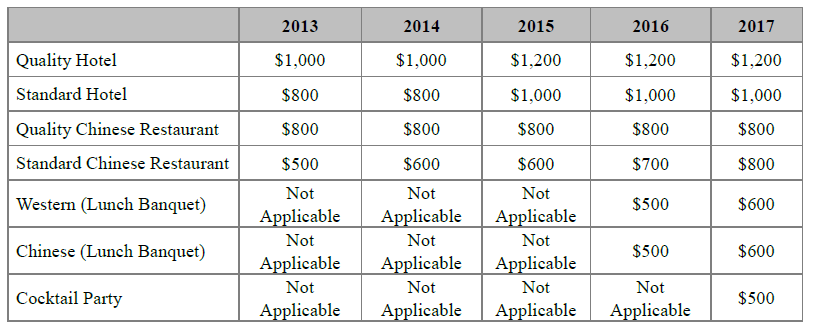 – End –