wedding.ESDlife Unveils Survey Result of Hong Kong Wedding Spending 2019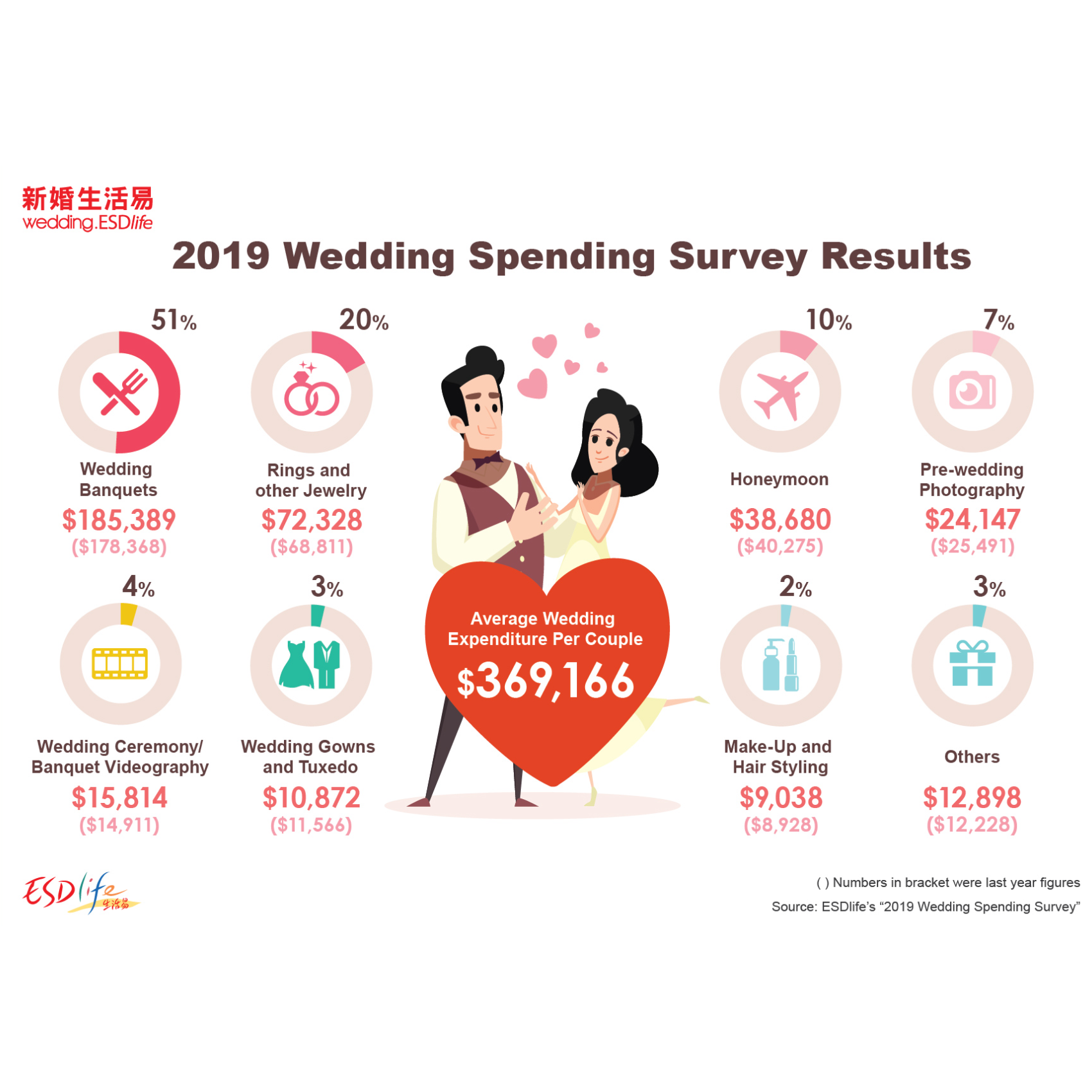 ESDlife Announces 2019 Hong Kong Wedding Survey Results
Social Instability Hinders Wedding Plans in Various Degrees
Over 10% Weddings Delayed or Cancelled
Average Wedding Expenses Slightly Rose 2% to HK$370,000
Hotel Banquet Cash Gift Again Hit 5-Year High
[Hong Kong – 28 October 2019] ESDlife, Hong Kong's No.1 wedding media, is hosting the Bridal Award Ceremony 2019 today in recognition of high quality wedding service providers and brands in Hong Kong. During the event, ESDlife also announces the results of Hong Kong Wedding Survey 2019 This year, the online survey was carried out from 1,297 individuals who are getting married between 2019 and 2021, to understand wedding couples' average expenditures and their wedding spending behavior.
Steady wedding spending momentum albeit economic recession with average wedding expenses slightly rose to HK$370,000
Uncertain economic outlook has insignificant impact to couples' wedding budget as average wedding expenses slightly rose 2% to HK$369,166, according to ESDlife's Hong Kong Wedding Survey 2019. Steady wedding spending momentum is further supported by the Double Spring and Leap Month in 2020, as more couples are intended to hold hands and grow old together within this traditionally auspicious year for wedding. (see Appendix – Figure 1)
Estimated wedding market expenditure dropped 3% YoY to HK$18.2 billion
Based on 5% YoY decrement of Hong Kong's number of marriages to 49,331 in 2018 according to the Hong Kong Statistics and Census Department of HKSAR Government, the total amount of wedding expenditure in 2019 is estimated to be HK$18.2 billion, with a 3% YoY drop. Wedding spending pattern remained stable during the period except slight decreases in honeymoon, wedding photography and wedding costumes. As expected, Wedding Banquet still ranks top among all wedding expenditures, with an average expense of HK$185,389 per couple, and the total market consumption is estimated up to HK$9.2 billion, achieving a growth of 4%. It was followed by Rings and other Jewelry, with a 5% increase in average spending to HK$72,328 and an estimated total market consumption of HK$3.6 billion. Meanwhile, average spending on Honeymoon fell 4% to an average of HK$$38,680 per couple, and the estimated total market consumption is HK$1.9 billion; average Pre-wedding Photography was down by 5% to HK$24,147 per couple, or an estimated total market consumption of HK$1.2 billion. The top four spending translate into 88% of total wedding expenditure. (See Appendix – Figure 2 and 3)
Hotel banquet cash gift median surged to HK$1,400 and jumped over 30% for wedding lunch
The zero growth of wedding banquet cash gift median across different types of venues since last year partially came to an end. In 2019, cash gift for wedding banquet at premium hotel surged from HK$1,200 to HK$1,400; cash gift for wedding lunch posted the largest jump with over 30% increase from HK$600 to HK$800; even cash gift for wedding cocktail inflated 20% to HK$600 during the year. A new item in cash gift category of the survey this year is Western Restaurant, with an initial median at HK$800. The median remains unchanged for cash gift to wedding banquet at standard hotels, restaurants, private clubs and special wedding venues. (See Appendix – Figure 4)
2019 Top 3 honeymoon destination: Europe, Japan and the Maldives
Honeymoon journey is always the much anticipated experience for newlyweds to start their new chapter in a happy note. The Survey revealed that honeymoon is part of wedding plan for over nine out of ten newlyweds (91%). The most preferred honeymoon destination is Europe (38%), followed by Japan (35%) and the Maldives (23%). With an average spending of HK$38,680 per couple, honeymoon travel is not only the third largest wedding expenditures for Hong Kong newlyweds; these avid travellers are also more generous to spend on once-in-a-life-time honeymoon for an unforgettable experience after wedding.
Future son-in-law accommodates mother-in-law's preferred betrothal money as a gesture of goodwill
According to the survey, betrothal money median remains at HK$50,000 during the year. Despite the fact that nearly half (45%) of women interviewees believed the betrothal money should be "decided by the couple", male interviewees shared a remarkably different view. Almost six out of ten (57%) highlighted the importance of "accommodating the request of parents-in-law", while 41% preferred to "discussing with parents of both sides". Such difference reflects that by showing sincerity and filiality, future son-in-law are mostly leaning to pay betrothal money favourable to mother-in-law or parents of both sides.
Disagreement on wedding organisation emerged with over six out of ten brides were dissatisfied with bridegrooms
The survey revealed that over six out of ten brides (62%) were dissatisfied with bridegrooms in terms of wedding organisation. It is attributed to the grooms' "insufficient participation" (42%), "perfunctory attitude" (27%), "overly criticised on wedding matters" (8%), "meanness or unwillingness on wedding spending" (8%), "penny-pinching behaviour" (7%), and "reluctance to accept opinions of others" (5%). (See Appendix – Figure 5) The findings prove wedding organisation is a relationship test. For achieving a happy marriage, it requires more than mutual participation and sharing of workload, but also praise, consideration and tolerance to one another.
Half of newlyweds buy new home but four out of ten require first instalment support from parents
Not every newlywed can enjoy their own living space immediately. The survey found that nearly three of ten (29%) newlyweds live with family members after marrying. A quarter (25%) of Hong Kong couples have even less privacy and space as they began their marriage at the same home with their family. On the other hand, nearly half (48%) of couples intend to buy a new home for residence albeit sky-high property price. However, their purchasing power is relatively weaker as 41% of couples need first instalment support from parents, representing a 5% YoY growth.
Over 10% weddings postponed or cancelled due to social unrest with additional expenses incurred
In view of recent social events, ESDlife conducted a follow-up interview with 729 individuals to be married between 2019 and 2021 in early October to learn from and familarise with the potential impact on their wedding plans. It was found that over half (52%) of couples were affected by the social atmosphere in various degrees, including postponement (12%) or cancellation (1%) in over one out of ten couples. Among other impacts are reduced visits to wedding exhibitions (33%), late deposit payment to wedding service provider (19%) and additional wedding expenses (20%). (See Appendix – Figure 6) In addition, other concerns and impact grew among couples such as pessimistic feeling, concerns of guest absence and their safety, as well as traffic consideration such as sudden or planned railway service termination during wedding day.
Photo captions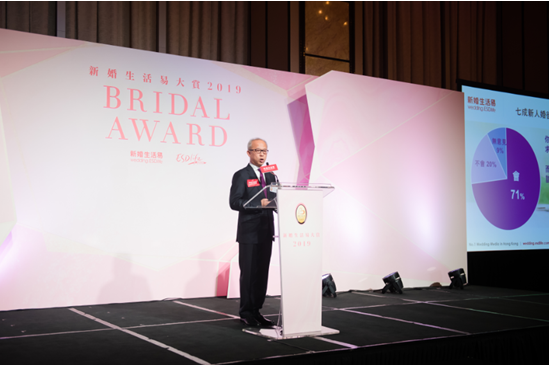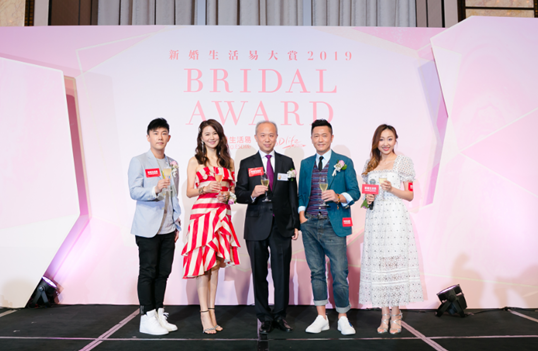 3. Ms. Priscilla Wong

4. Mr. Edmond So

5. Mr. Louis Yan
Appendix
Figure 1: Past 5 Year Trend of Average Wedding Expenditure

Figure 2: Comparison of Wedding Items Expenditure in 2019 and 2018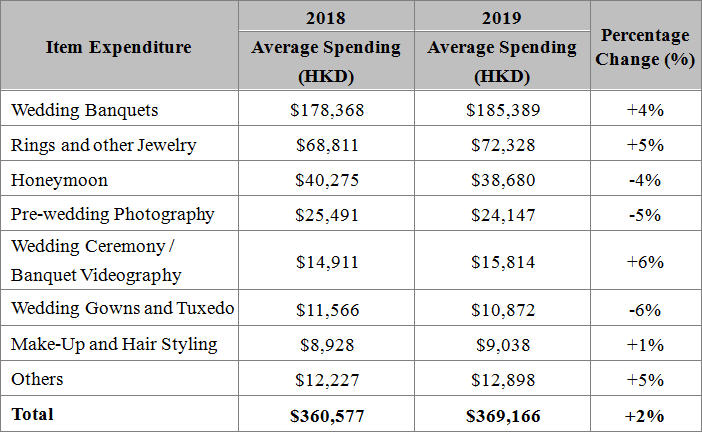 Figure 3: Estimated Total Market Spending on Wedding Items in 2019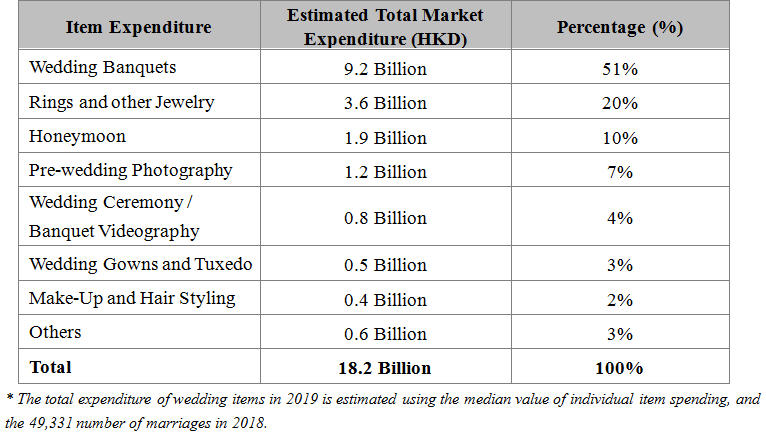 Figure 4: Hong Kong Wedding Cash Gifts (Median Value)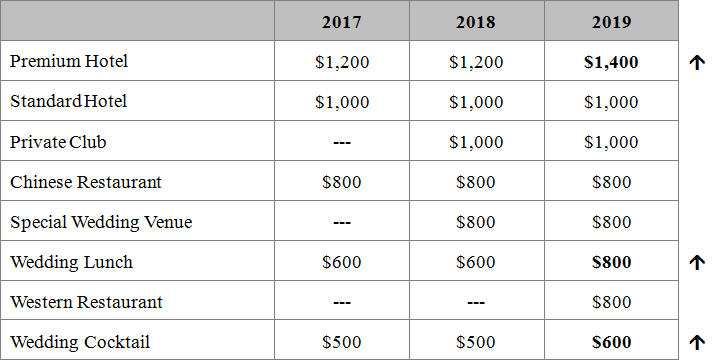 Figure 5: Hong Kong Brides Dissatisfied with Grooms' Wedding Organization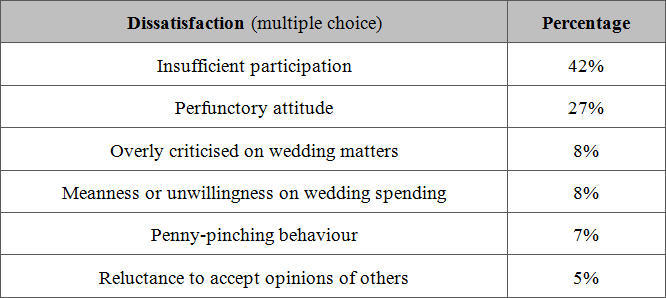 Figure 6: Impacts on Wedding Plans Due to Social Unrest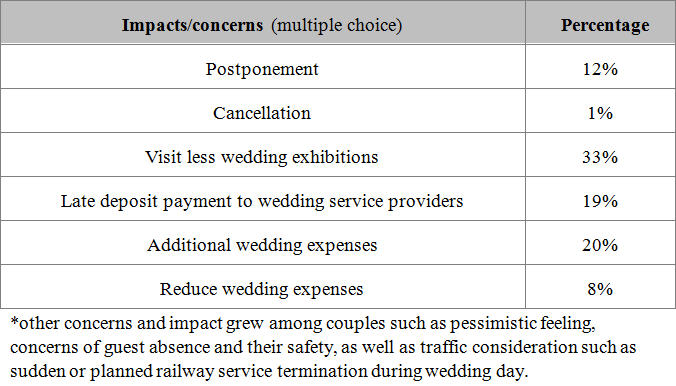 – End –
About ESDlife
ESDlife, a joint venture of CK Hutchison Holdings Limited and Hewlett-Packard HKSAR established in 2000, builds digital engagement through a collective of trusted and award-winning services. It offers online lifestyle media platform including wedding, family and health; e-commerce and digital solutions that helps brands achieve their goals. Through these, ESDlife aims to help people live more rewarding, fulfilled lives. For more information, please visit: www.ESDlife.com.