ESDlife Announces 2021 Hong Kong Wedding Spending Survey Results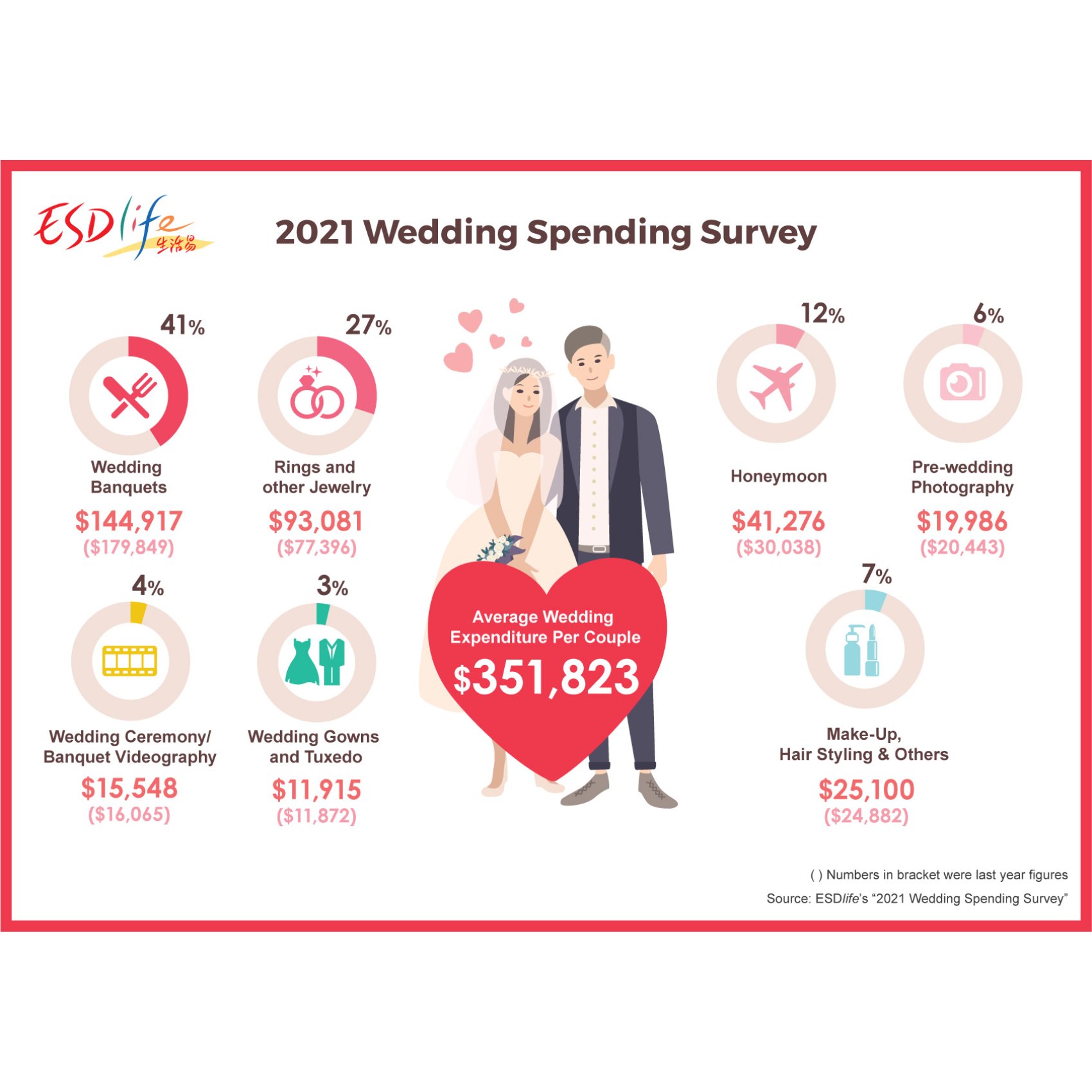 Average Wedding Expenses Slightly Dropped by 2% to HK$350,000
The Number of Marriages and the Consumer Market Has Started to Make A Recovery
COVID Wave is Receding and 87% of Couples Insist on Holding Wedding Banquets
No Bigger Cash Gifts from Wedding Guests but Betrothal Money Hits a Record High of HK$60,000
Nearly 70% of the Weds-to-be had Conflicts with others when Preparing for the Wedding
[Hong Kong – 22 November 2021] ESDlife, Hong Kong's No.1 wedding media, announces the results of Hong Kong Wedding Spending Survey 2021. The COVID-19 pandemic has been raging around the world since last year, gathering restrictions and social distancing measures in Hong Kong have posed unprecedented challenges to many couples who are planning for their wedding. This year, the online survey was carried out from 1,003 individuals who are getting married between 2021 and 2023, to understand wedding couples' average expenditures and their wedding spending behavior.
Hong Kong's number of marriages is increased by 7% due to the ease of the COVID-19 wave, the average wedding expenses slightly dropped by 2 % to HK$350,000
Although the pandemic has disrupted couples' wedding plans, according to ESDlife's Hong Kong Wedding Spending Survey 2021, the average budget for wedding expenses only slightly dropped by 2% to HK$$351,823. (See Appendix – Figure 1) This figure reflects that even if the wedding is subjected to pandemic restrictions, the couples still intend to maintain their wedding expenses to create their perfect wedding. According to the Statistics and Census Department of HKSAR Government, the number of registered marriages in 2020 was 27,863. Based on the 11% YoY increment of Hong Kong's number of marriages in the third quarter of 2021, the total number of marriages in 2021 is estimated to be 29,749, achieving a 7% YoY growth. Due to the relaxed measures that allow a maximum of 240 participants per banquet, 87% of couples insist on holding wedding banquets under the epidemic. It is believed that in the coming year, the wedding banquet market will continue to rise and will be gradually recovered to its original scale.
Spending on each wedding item fluctuated, spending on Rings and other Jewelry surged by 20%
Although Wedding Banquet's YoY expenses fell by 19%, it still ranks top among all wedding expenditures, with an average expense of HK$144,971 per couple. It was followed by Rings and other Jewelry, with a 20% surge in average spending to HK$93,081. The price of gold has remained constant this year after setting a new record last year. The survey shows that couples are more willing to invest in value-preserving wedding jewelry and rings than other wedding items. The top two spendings translate into 68% of total wedding expenditure. Meanwhile, the number of newlyweds who will have their honeymoon travel this year is apparently less than the previous year due to the border control measures under the epidemic. However, 51% of the couples still reserve an average expense of HK$41,276, marking a YoY increase of as much as 37%, for their honeymoon travel budget. Due to the epidemic, the couples need to pay for the quarantine hotels fee upon returning to Hong Kong, making honeymoon expenses dramatically increased. Pre-wedding Photography was down by 2% to the average expense of HK$19,986 per couple. (See Appendix – Figure 2)
Wedding market expenditure is estimated to be 8.95 billion, experienced a 2% YoY increase
Based on the estimated total number of marriages this year which is 29,749, the average expenditure of each wedding item, and the usage ratio of each item, the total value of the entire wedding consumer market in Hong Kong in 2021 is estimated to be HK$8.95 billion, increased slightly by 2% than last year. The total market consumption of Wedding Banquet, which ranks top among all wedding expenditures, is estimated to be HK$3.73 billion, a 16% drop from last year; the total market consumption of Rings and other Jewelry is estimated to be HK$2.67 billion, a 36% increase from last year; the total market consumption of Honeymoon is estimated to be HK$0.62 billion, a decrease of 6% from last year; and the total market consumption of Pre-wedding Photography is estimated to be HK$0.56 billion, a slight increase of 2% from last year. Although the estimated total market consumption of Wedding Banquet and Honeymoon has declined, that of the second-largest wedding spending, Rings and other Jewelry, has soared, which leads to a 2% increase to HK$8.95 billion in the overall estimated wedding market expenditure. This data reflects that the wedding consumer market has started to make a recovery. (See Appendix – Figure 3 and 4)
Accommodating the expectation of parents-in-law, betrothal money median hits a record high of HK$60,000
Marriage should be a joyous celebration, but discussing the betrothal money with parents-in-law has annoyed many future sons-in-law. According to the survey, the betrothal money median had remained unchanged at HK$50,000 from 2018 to 2020. This year, the betrothal money median bucked the market trend and rose by 20% to HK$60,000. The figure shows that parents-in-law still have the expectation in the amount of betrothal money, and future sons-in-law are mostly leaning to pay betrothal money favourable to parents-in-law to show sincerity.
Nearly 70% of couples had conflicts with others when preparing for the wedding, and nearly 20% of them have disagreements with parents-in-law
After a romantic proposal, couples will start to plan their wedding. Indeed, marriage is between two families. Every step and decision-making in the wedding planning is a relationship test and challenge for the couples. It was found that only 33% of couples "do not have any conflicts with others", which means that 67% of them had conflicts with others when preparing for the wedding. The weds-to-be mostly had conflicts with their "partners" (41%), "parents" (33%), and "parents-in-law" (17%), supporting that the closer the person is, the more conflicts they would have. Wedding is a once-in-a-lifetime event of two individuals and two families need to work together for the preparation. It is inevitable that there will be moments that ones would hold their own views and hope for perfection. But willingness to be considerate and compromise rationally could resolve conflicts most of the time.
The pandemic and gathering restrictions have no impact on cash gifts, wedding banquets cash gift remains unchanged at last year's high
The zero growth of wedding banquet cash gift median across different types of venues returned. Although the wedding couples' overall expenditure on Wedding Banquets is declined due to the pandemic, the survey however reflects that the amount of wedding cash gifts has not been adjusted accordingly and remains unchanged. The cash gifts amount for both Hotel (HK$1,500 for premium hotel & HK$1,000 for standard hotel) and Restaurant (HK$800) remain unchanged, as well as the amount of the gift for Wedding Lunch and Western Restaurant at HK$800, and Wedding Cocktail at HK$600. Two new items in the cash gift category of the survey this year are "only invite you to attend a simple ceremony at the marriage registry/church" and "only send a bakery voucher but not invite you to a wedding ceremony or wedding banquet". Under these situations, the survey reports that the cash gift median is at HK$300 and HK$100 respectively. (See Appendix – Figure 5)
The social and economic environment affects couples' family planning, 30% of the couples hesitate to give birth
Affected by various reasons, only half of the couples (55%) are willing to give birth; 29% of them are still considering whether to give birth; and 16% of them stated that they do not have family planning. (See Appendix – Figure 6) The figures reflect that the newlyweds are still taking a wait-and-see attitude towards family planning and considering giving birth or not. The major reasons for newlyweds not giving birth are "financially unaffordable" (39%), "more freedom in the world with only two people" (33%), and "the social environment is not conducive to child's growth" (31%).
Photo captions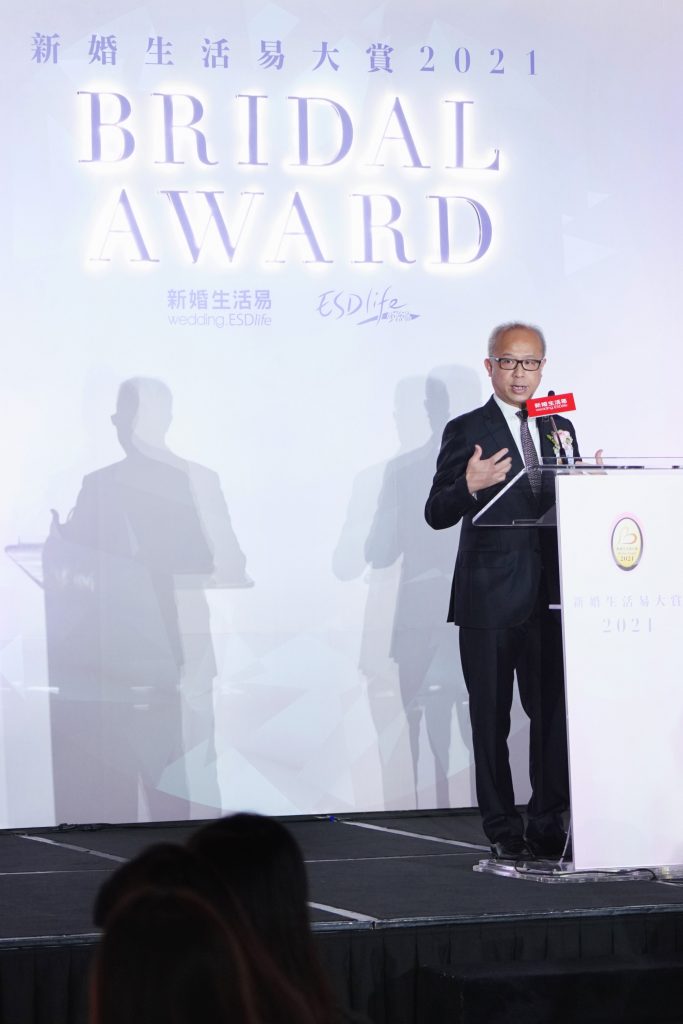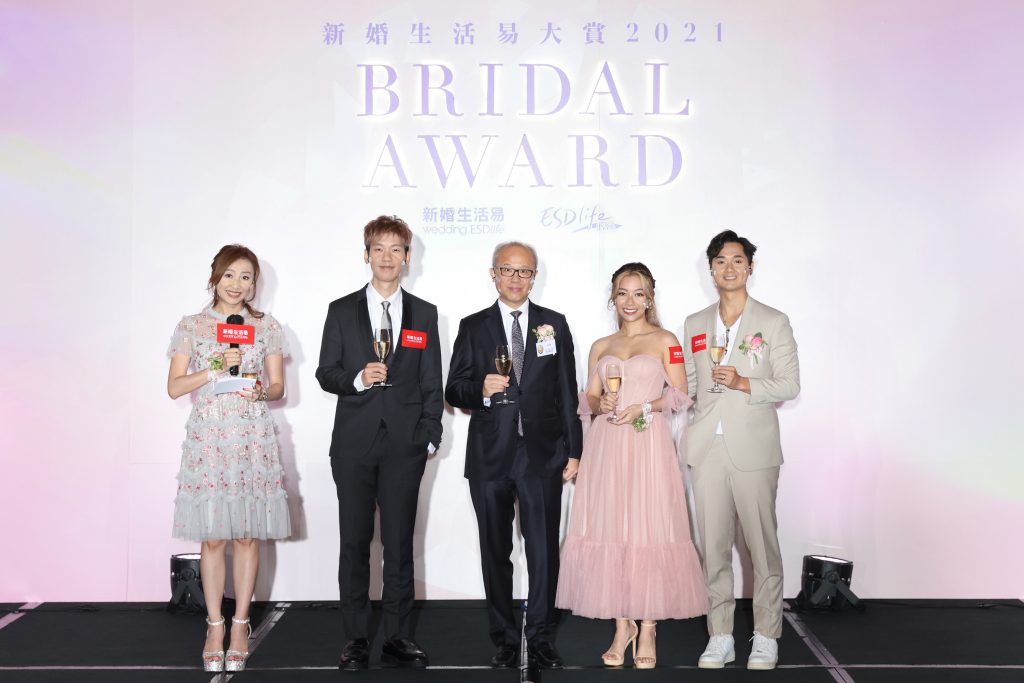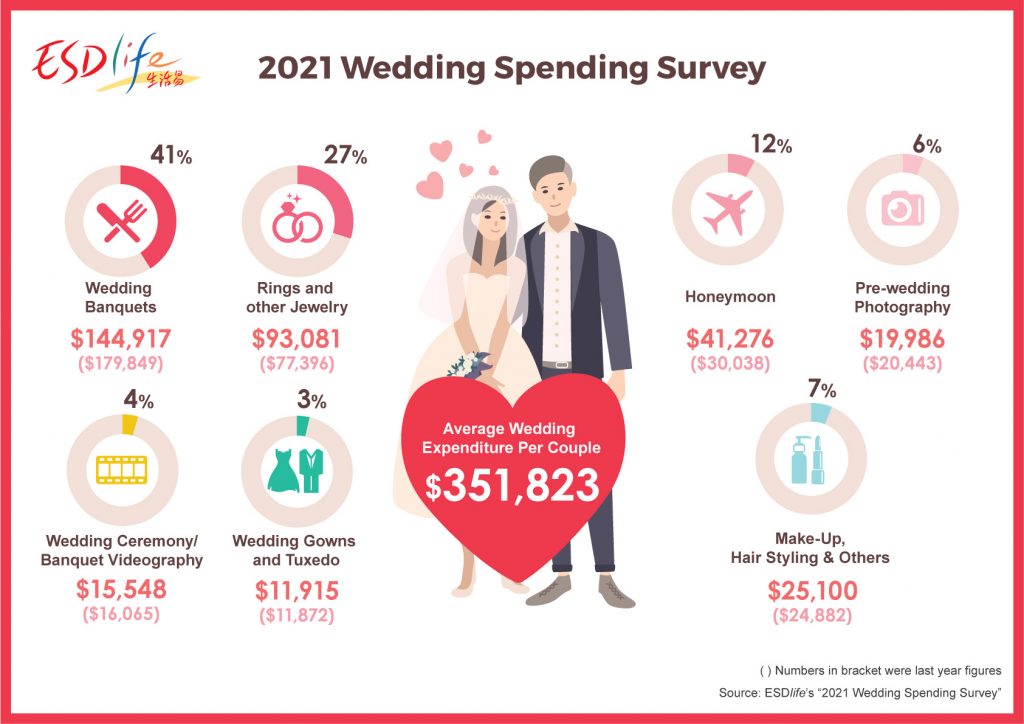 Appendix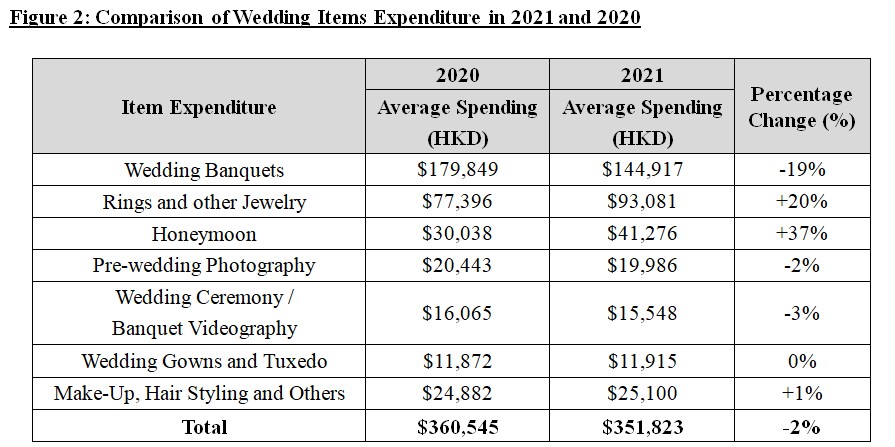 – End –