ESDlife Announces 2022 Hong Kong Wedding Spending Survey Results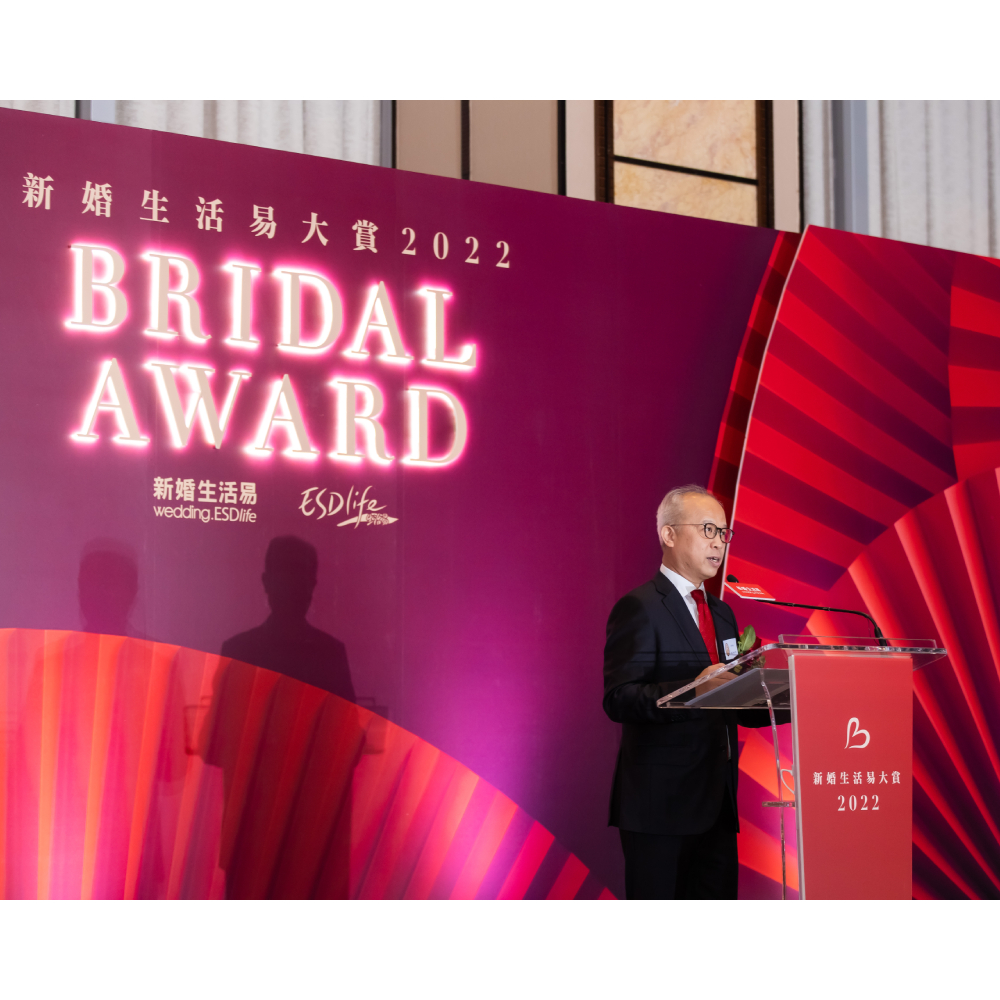 Average Wedding Expenses rebound by Nearly 10 % to over HK$380,000
The Number of Marriages Increase, More Weds-to-be Prefer Simple Wedding
Cash Gifts of Sending Bakery Voucher Increased by 2 times
Betrothal Money Hits a Record High of HK$68,000
Nearly half of the Brides-to-be Expect At Least 1-Carat Diamond Engagement Ring
Hotel Staycation Proposal Becomes a Hit
[Hong Kong – 28 November 2022] ESDlife, Hong Kong's No.1 wedding media, announces the results of Hong Kong Wedding Spending Survey 2022. This year, the online survey was carried out on 1,226 individuals who are getting married between 2022 and 2024, to understand wedding couples' average expenditures and their wedding spending behavior. As the anti-epidemic measures gradually ramped down, the wedding consumer market and the scale of weddings and wedding banquets is resuming to a pre-pandemic level.
The average wedding expenses rebounded by nearly 10 % to over HK$380,000
According to ESDlife's Hong Kong Wedding Spending Survey 2022, the average budget for wedding expenses rebounded by 9% to HK$384,366 after two consecutive years of decline. This figure reflects that couples are willing to spend to achieve a perfect wedding. Data from the past 5 years shows that the average wedding expenses dropped slightly due to the pandemic in 2020 and 2021, however, it has rebounded this year and exceeded the pre-pandemic level. (See Appendix – Figure 1) According to the Statistics and Census Department of HKSAR Government, the number of registered marriages in 2021 was 26,899. Based on the YoY increment of Hong Kong's number of marriages in the first three quarters of 2022, the total number of marriages in 2022 is estimated to be 29,320, achieving a 9% YoY growth.
Spending on each wedding item surged, Pre-Wedding Photography, Rings and other Jewelry, as well as Honeymoon marked double-digit growth
Wedding Banquet expenses rose by 3% this year, taking up first place again among all other wedding expenditures with an average expense of HK$149,044 per couple. It was followed by Rings and other Jewelry that increased by 17%, with over one hundred thousand dollars in average spending at HK$108,988. The survey shows that couples are more willing to invest in value-preserving wedding jewelry and rings than other wedding items. In addition, as the travel restrictions have been lifted, the expenditure on Honeymoon recorded an 11% growth at HK$45,891. Although air ticket and hotel prices have not resumed to pre-pandemic levels, couples are already planning overseas travel and ready to splurge on their honeymoon. Pre-wedding Photography picked up by 28% with an average expense of HK$25,534 per couple. The survey shows that overseas wedding is stepping up that couples may express interest in overseas wedding photoshoots. The top four spendings together translate into 86% of the total wedding expenditure this year. (See Appendix – Figure 2)
Wedding market expenditure is estimated to be nearly 10 billion, experienced over 20% YoY increase yet still far from pre-pandemic level
Based on the estimated total number of marriages this year which is 29,320, the average expenditure of each wedding item, and the usage ratio of each item, the total value of the entire wedding consumer market in Hong Kong in 2022 is estimated to be HK$9.98 billion, increased by 24% than last year. The total market consumption of Wedding Banquet, which ranks top among all wedding expenditures, is estimated to be HK$3.73 billion, a 10% increase from last year; the total market consumption of Rings and other Jewelry is estimated to be HK$3.06 billion, a 27% increase from last year; the total market consumption of Honeymoon is estimated to be HK$1.16 billion, an increase of 107% from last year because of its increasing usage ratio; and the total market consumption of Pre-wedding Photography is estimated to be HK$0.71 billion, an increase of 42% from last year. Other wedding expenses also show a significant increase which leads to an overall 24% increase in the total value of the entire wedding consumer market. (See Appendix – Figures 3 and 4) This data reflects a steady recovery of the wedding market, however, since the number of marriages is still below the pre-pandemic level, the estimated total value of the wedding consumer market remains significantly different as compared to before the pandemic. (See Appendix – Figure 5)
Anti-epidemic measures and emigration impact the average number of banquet tables, four years of consecutive decline to 16 banquets this year
Under the anti-epidemic policy restriction, the maximum number of persons per banquet table fluctuates from 20 people (4 persons per table), 120 people (10 persons per table), to 240 people (12 persons per table), which means couples could not host more than 20 tables (12 persons per table) even in the most ideal situation. Shrouded by the uncertainties of the preventive measures, couples are more cautious when arranging banquets, resulting in a decline in the average number of banquet tables. The Census and Statistics Department also reported a record high in the outflow of Hong Kong people. The net movement figure was recorded as negative since the end of 2019 and many who left are at their marriageable age. It is believed that many couples have friends or family members that left Hong Kong or relatives and friends overseas that could not attend the wedding during the pandemic, contributing to the continuous drop from 20 tables in 2018 to only 16 tables this year.
Betrothal money median rises consecutively, reaching a new record of HK$68,000
Many might wonder about the right amount of betrothal money, according to the survey, the betrothal money median had remained the same at HK$50,000 ever since 2018. It rose to HK$60,000 amidst the pandemic last year and jumped to HK$68,000 this year. The figure shows that parents-in-law have expectations on the amount of betrothal money, and future sons-in-law mostly lean to pay betrothal money favourable to parents-in-law to show sincerity.
Wedding banquet Cash Gift remains unchanged, Cash Gift of Wedding Cocktail, Marriage Registry, and Sending Bakery Voucher increased
Same as last year, the wedding banquet cash gift median recorded zero growth. The cash gift amount for both Hotel (HK$1,500 for premium hotel & HK$1,000 for standard hotel) and Restaurant (HK$800) remains unchanged, as well as the amount for Clubhouse and Special Wedding Venue (HK$1,000). Wedding Lunch and Western Restaurant are still kept at HK$800. Under the anti-epidemic policy restriction, Wedding Cocktail becomes more popular, the cash gift amount for Wedding Cocktail increased by 33%, from HK$600 to HK$800, "only being invited to attend a simple ceremony at the marriage registry/church" rose by 66%, from HK$300 to HK$500, and "only send a bakery voucher but not being invited to a wedding ceremony or wedding banquet" increased by 2 times of last year at HK$300. (See Appendix – Figure 7) The cash gift for lunch and dinner banquets is inevitably greater than the non-banquet style. Although couples nowadays need to keep their weddings simple with fewer banquet tables, their relatives and friends are more generous on cash gifts.
Hotel staycation proposal becomes a hit, nearly half of the brides-to-be expect at least 1-carat diamond engagement ring
The survey found that the most popular place for proposal is Hotel Staycation (46%), Home (21%), and Restaurant (10%). Over half of the brides-to-be (56%) expressed if their significant other did not prepare an engagement ring to propose, they would not accept the proposal. When asked further about their expectations on the engagement ring, nearly half (47%) of the brides-to-be expressed they hope the engagement ring is at least a 1-carat diamond or above. This reflects that the engagement ring and the size of the diamond on it are both crucial for grooms-to-be to invest in to manifest their sincerity and truthfulness.
Other half owned a property facilitates marriage decisions, appearance and body figure are important qualities for men to choose their wives
The survey asked about the factors that drive couples to get married and the top five reasons are "reached marriageable age" (72%), "stable relationship" (61%), "good financial status" (55%), "want to have kids" (32%) and "other half owned a property" (16%). Besides, the survey also asked about the qualities that men and women look for from their wives and husbands. More than 40% of men think "good-looking" (46%) and "good body shape" (44%) make a good wife. On the contrary, women care less about men's appearance and figure, only 17% of women chose "good-looking" and 12% chose "good body shape".
Photo captions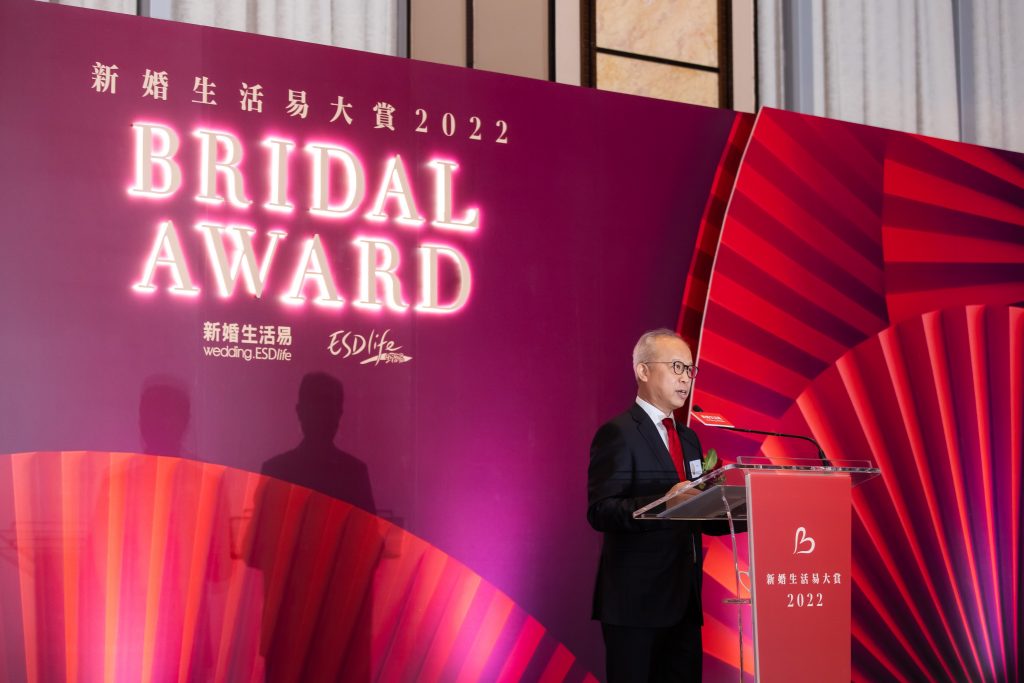 1. Mr. Tony Ma, CEO of ESDlife announces "2022 Hong Kong Wedding Survey" results in "Bridal Award 2022" Ceremony.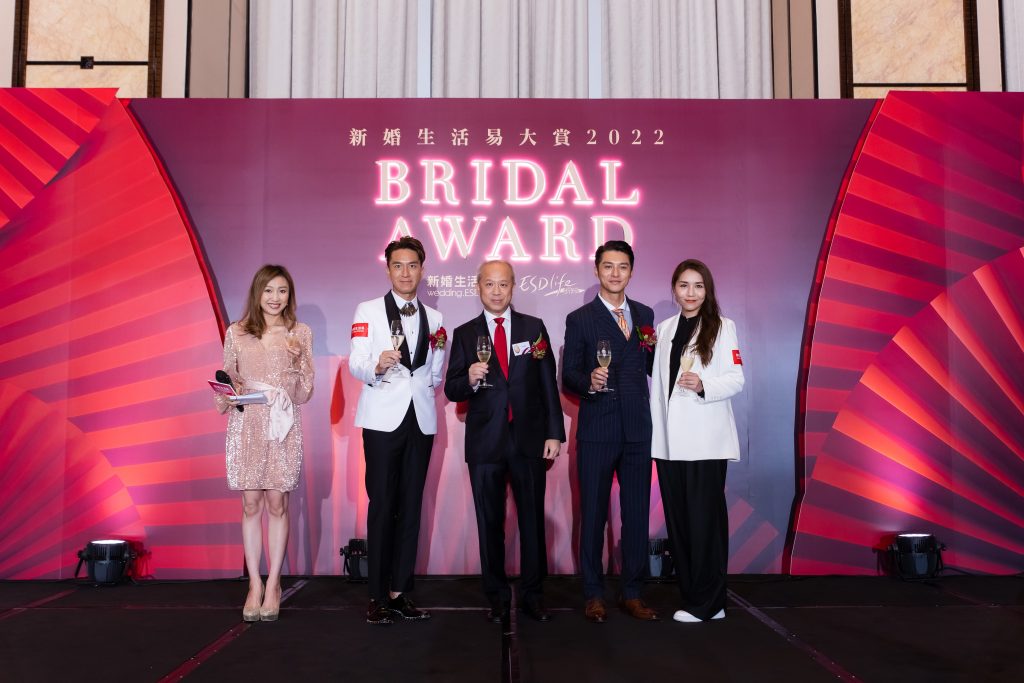 2. Mr. Tony Ma, CEO of ESDlife, artist Mr. Kenneth Ma and Mr. Stephen Wong with his wife Ms. Samantha Kong, together with the emcee of the event Ms. Rikko Lee toast to congratulate the awarded companies at the opening ceremony of Bridal Award 2022.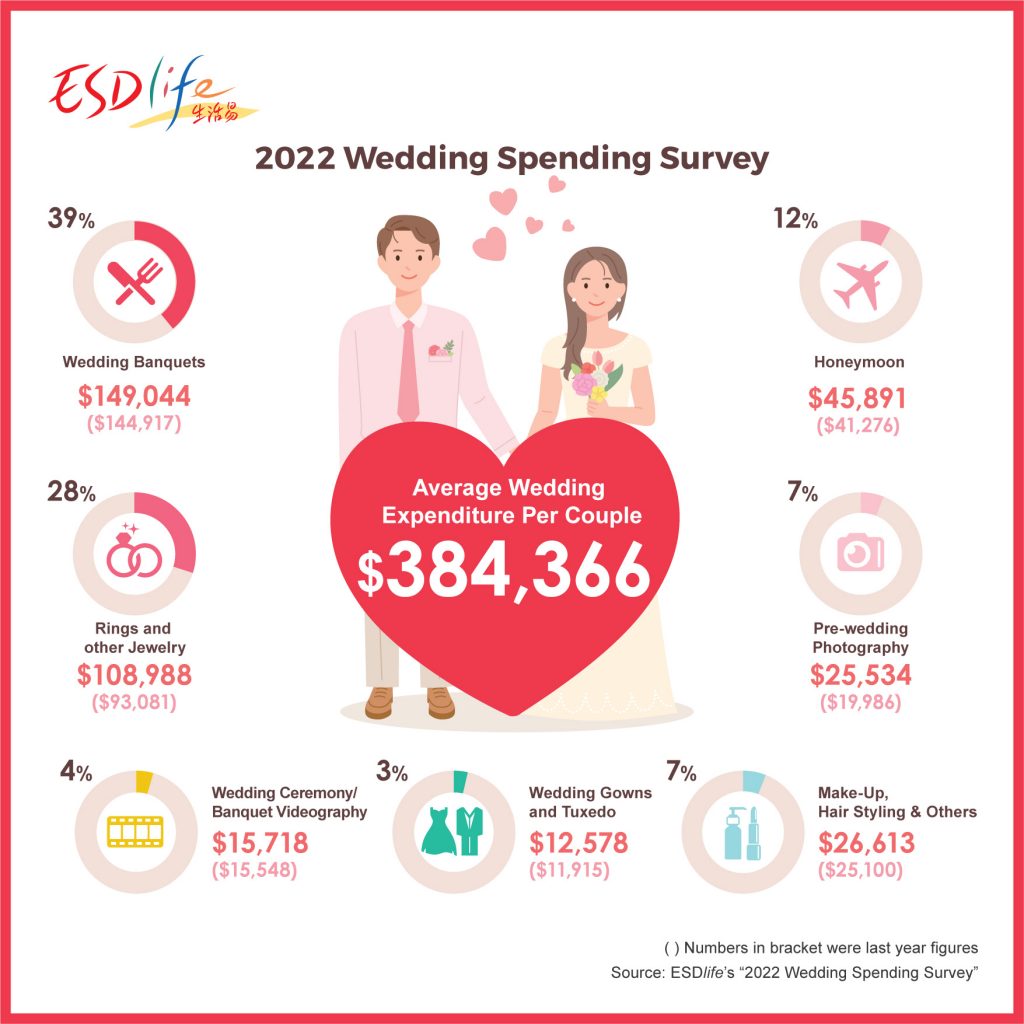 Appendix
Figure 1: Past 5-Year Trend of Average Wedding Expenditure

Figure 2: Comparison of Wedding Items Expenditure in 2022 and 2021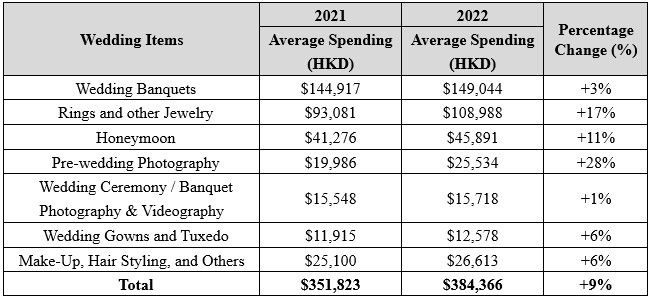 Figure 3: Usage Rate of Wedding Items in 2022

Figure 4: Estimated Total Market Spending on Wedding Items in 2022 and 2021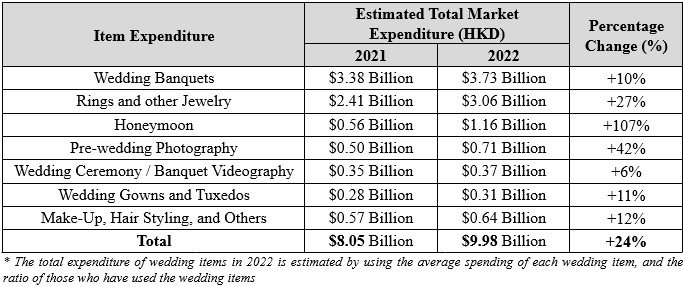 Figure 5: Total Market Spending Trend

Figure 6: Betrothal Money (Median Value)

Figure 7: Hong Kong Wedding Cash Gifts (Median Value)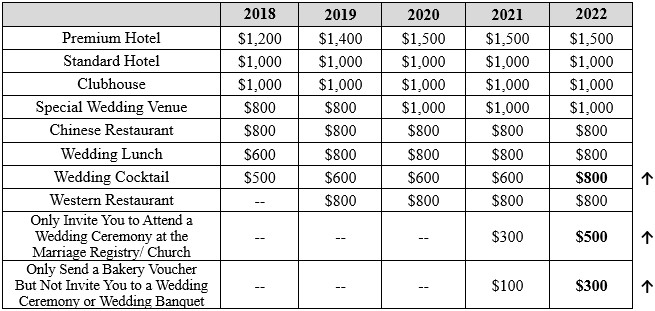 Figure 8: Brides-to-be's Expectations on Engagement Rings

– End –