ESDlife Announces Survey Results of Hong Kong Wedding Spending 2010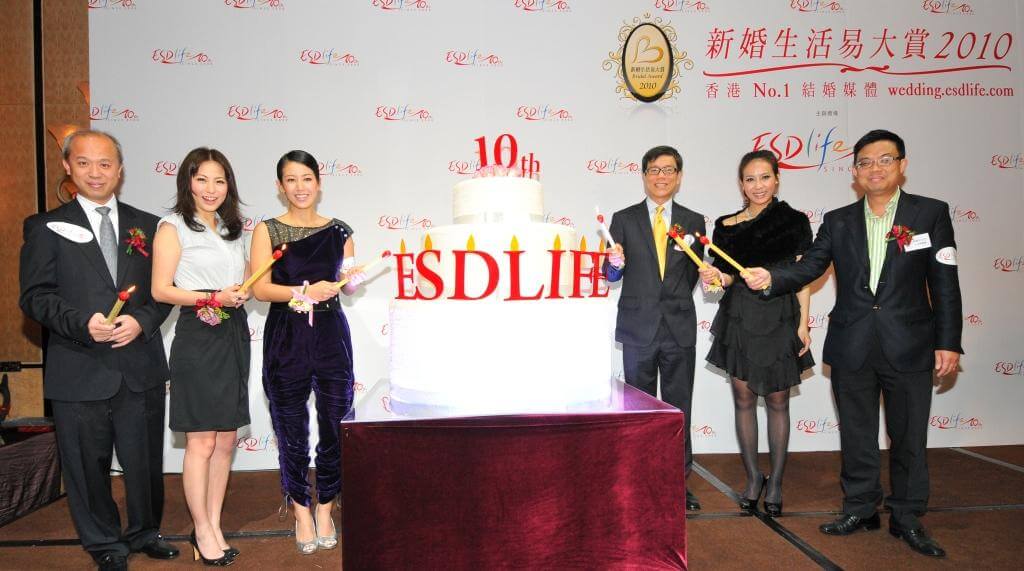 Estimated Wedding Expenditure Hits Record High
Chinese Restaurants Become the Most Popular Wedding Venue
Overseas Pre-wedding Photography Prevails
[Hong Kong – 30 November 2010] ESDlife, Hong Kong's No.1 wedding information medium, hosted the "Bridal Award Ceremony 2010" for the sixth consecutive year to recognize the outstanding wedding service providers in Hong Kong. During the same event, ESDlife also released the findings of Wedding Survey 2010, which was conducted during August to October this year.
Continuous Growth in Wedding Industry Total Expenditure Hits Record High at HK$12.5 billions
According to the ESDlife Wedding Survey 2010, the average wedding expenditure and the total wedding consumption in Hong Kong has reached a new high. The average estimated wedding expenditure is HK$244,121, 8% higher than last year's figure. And using 51,200 new couples in 2009 as a base (Hong Kong Statistics and Census Department), the estimated total wedding consumption has recorded a new high of HK$12.5 billions.
The survey also indicated Wedding Banquet is still the top spending among all expenses, with an average at HK$136,773, and the total market consumption is forecasted up to HK$7 billions. Honeymoon (averaged HK$29,015) and pre-wedding photography (averaged HK$19,191) ranked second and third, the estimated total market consumption were HK$1.49 billions and HK$0.98 billions respectively.
Civil Celebrant Service Benefits Chinese Restaurants to Gain Popularity
Regarding wedding venues, Chinese Restaurants (23%) have replaced Marriage Registry (21%) to be the most popular venue for wedding. Owing to the prevail of Civil Celebrant Service, the number of people getting married in Marriage Registry is expecting a new low, and it is predicted that more and more people will choose nontraditional venue for their wedding.
Bridal Photos Looks for Quantity and Overseas Location
According to the survey, 99% of wedding couples plan to take pre-wedding photos, and 10% even consider having three sets of photo or above. It means new couples are willing to spend on pre-wedding photography and quantity is as important as quality. In addition, there was a significant decrease (5% decreases in comparing with 2009 figure) in taking pre wedding photo in Hong Kong. On the other hand, overseas pre-wedding shooting is becoming more and more popular, hot spots including Mainland China, Japan, Guam and Europe. It reveals that local pre-wedding photography industry has become more competitive than ever. "Economic recovery has boosted the wedding expenses in this year. The growth in overseas pre-wedding shooting shows that the power of wedding couple expenses could not be underestimated. In order to capture the 12.5 billions market, industry players should recognize the consumers' needs, nimbly create quality and innovative services" Ms Desiree Lam, Content Manager and Wedding Specialist of ESDlife, commented.
Appendix
Table 1 – Expenditure on Various Wedding Items 2010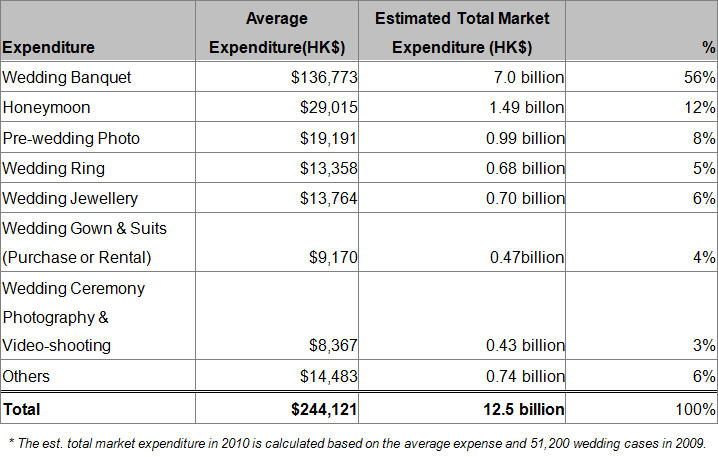 Table 2 – Comparison of Expenditure on Various Wedding Items in 2009 & 2010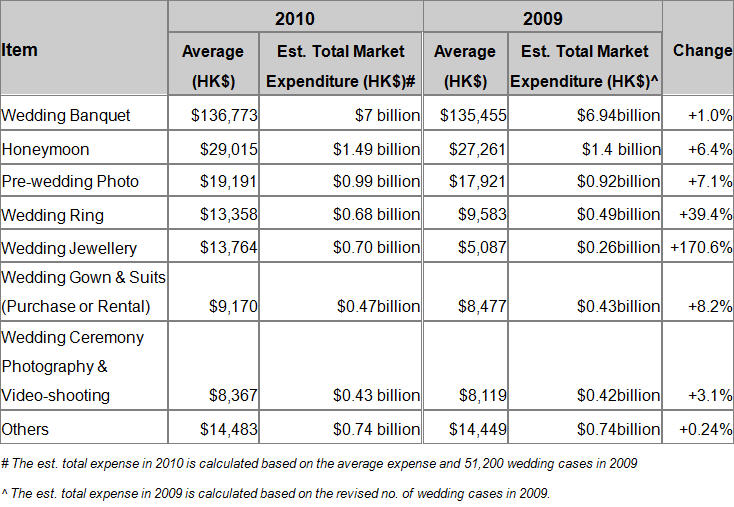 – END –