ESDlife Unveils Survey Results of Wedding Spending Survey 2009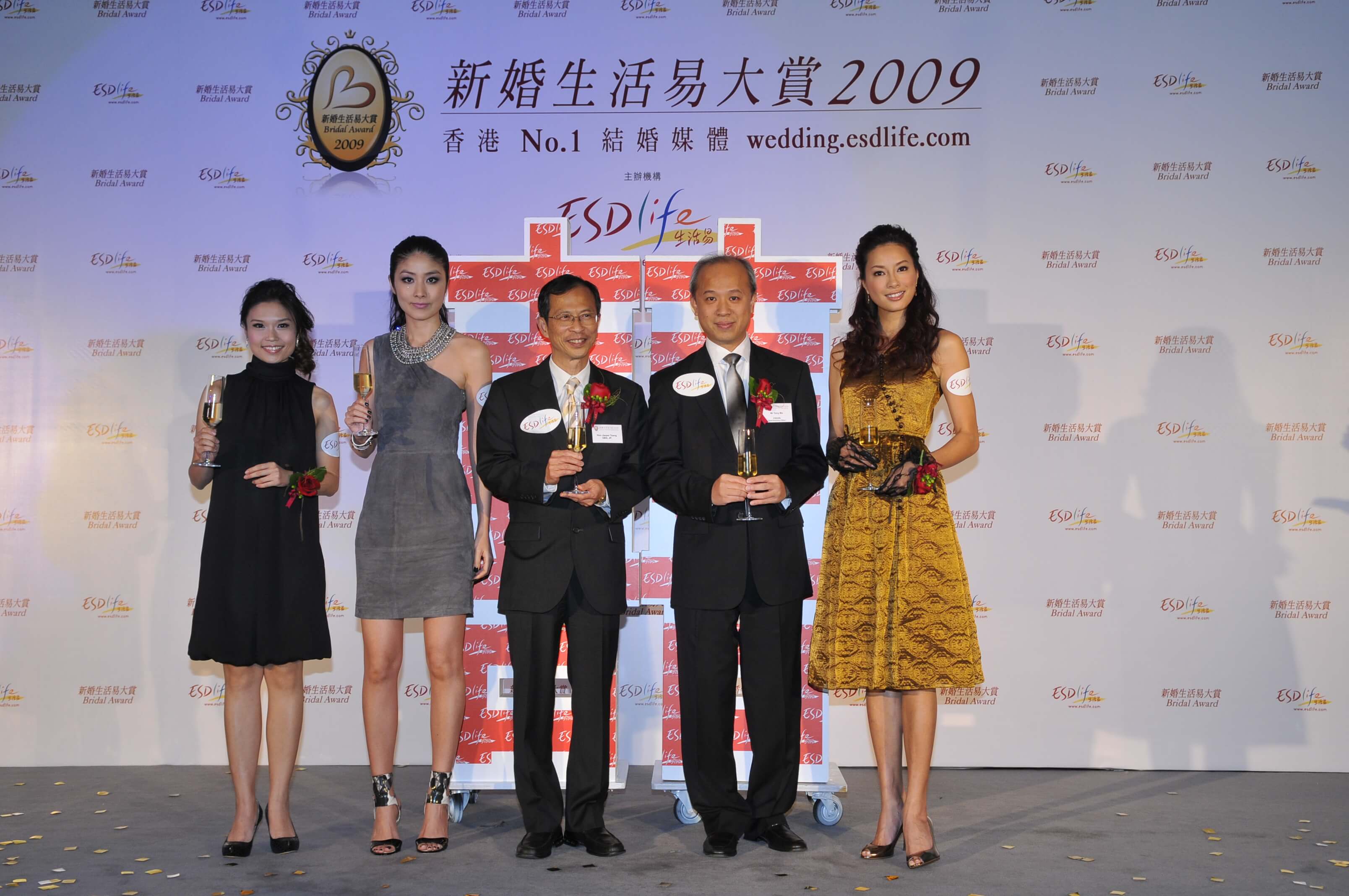 Average Wedding Expense in 2009 Slightly Dropped by 3.3% to $226,000
Average Cash Gift of $59,000 given to Bride's Parents
Property Market of Wedding Couples Reaches $67.2 Billion
[Hong Kong – 10 August 2009] ESDlife, Hong Kong's No.1 Wedding Information Medium, has conducted an independent online Wedding Spending Survey 2009 in July. 1,781 respondents who plan to wed in 2009 to 2011 were interviewed via the Wedding Channel of ESDlife (wedding.esdlife.com). The research revealed the wedding planning and expense of marrying couples and hence the influence upon wedding industry under economic downturn.
Wedding couples spent slightly less by 3.3%, fearless of the depressed economy
"According to ESDlife Wedding Spending Survey 2009, the wedding expense of our respondents averaged HK$226,352. Based on 47,331 wedding couples registered in Hong Kong last year, the total market expense of wedding industry is estimated at HK$10.71 billion, with a slight drop of 3.3%." said Ms Desiree Lam, Content Manager of ESDlife and a wedding expert. The expense on Wedding Banquet contributed 60%, the largest part of wedding spending, equivalent to HK$6.41 billion in the total market expense with a slight drop of 3.4% compared with last year. Honeymoon (12%) and Pre-wedding Photo (8%) follow, estimated at HK$1.29 billion and HK$0.85 billion in the total market expense, with marginal drops of 0.5% and 1.7% respectively (Appendix – Tables 1 & 2). "As indicated in the survey, wedding couples tend to spend on various wedding items to create a perfect wedding experience, regardless of the economic downturn since last year. Their strong consumption power nurtures and provides tremendous business opportunities to the wedding industry." added Ms Desiree Lam.
Grooms paid two-third of total spending, including $59,000 cash gift to bride's parents
The survey showed that grooms paid an average of two-third (66%) of total wedding expense, equivalent to HK$149,000 as based on average spending. 18% of grooms even paid more than 90% of total wedding expense. Meanwhile, it was revealed that the cash gift from groom to bride's parents averaged HK$58,705. The flourishing wedding market drove wedding couples to spend more time on price comparison and booking of every wedding item. The survey showed that the respondents, on average, started organizing their wedding 14.3 months in advance and spent 2.5 years to save money. This implies that grooms in Hong Kong receive more economic pressure in organizing wedding, and hence they need to prepare a thorough financial planning as soon as they plan to wed.

Nearly 20% of wedding couples spends over $80,000 each on investment and on loan
Even though most (98%) of the respondents prepared their wedding expense by personal saving; nearly a quarter (23%) needed to borrow from their parents. Surely, wedding couples are under economic pressure and need external financial source. Many investors had their investment depreciated during the stock burst last year and some of them hanged back from the stock market. It was also shown in the survey that the percentage of respondents using investment for wedding preparation fell from 43% last year to only 18% this year, with average investment amount of HK$82,000. Besides, 16% of the respondents chose to borrow an average loan of HK$81,000 from financial institutions to prepare wedding expense, including personal loan, overdraft and cash withdrawal from credit cards.
"Couples should plan a budget for wedding based on their saving ability. Managing their assets well with various financial tools is crucial. If they need to prepare some hundred thousand dollars in few years, they should consider the risk, return rate and liquidity of their investment combinations. I recommend couples to have a detailed financial analysis before planning marriage," suggested Mr. Jeslie Chui, frequent columnist of financial publications and Honorary Assistant Professor – e-financial Services, the University of Hong Kong.
Two-third of wedding couples plan to buy home, valuing $67.2 billion in the property market
Traditional wedding mindset includes home buying. The survey showed that two-third (67%) of the respondents plan to buy home, while the property valued at HK$2.12 million on average. This implied that the whole property market of wedding couples summed to HK$67.2 billion. On the other hand, among those who chose to buy home in or after 2009, 39% of them chose to borrow a mortgage loan of 90% as more working capital for wedding expense was expected.
Economic downturn affects family planning
The survey revealed 50% of the respondents planned to have 2 or more children, showing a drop of 11% than last year. While 35% of them planned to have only 1 child, showing a 9% increase. Raising children demands lots of money and so, couples are more cautious about having children under economic downturn.
Appendix
Table 1 – Expense on various wedding items in 2009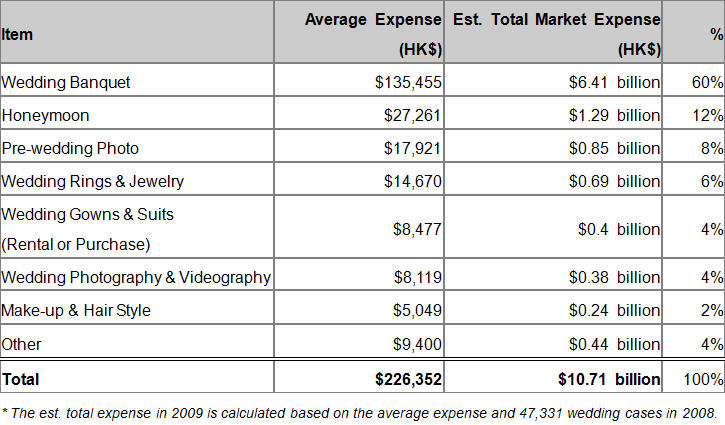 Table 2 – Comparison of expense on various wedding items in 2008 & 2009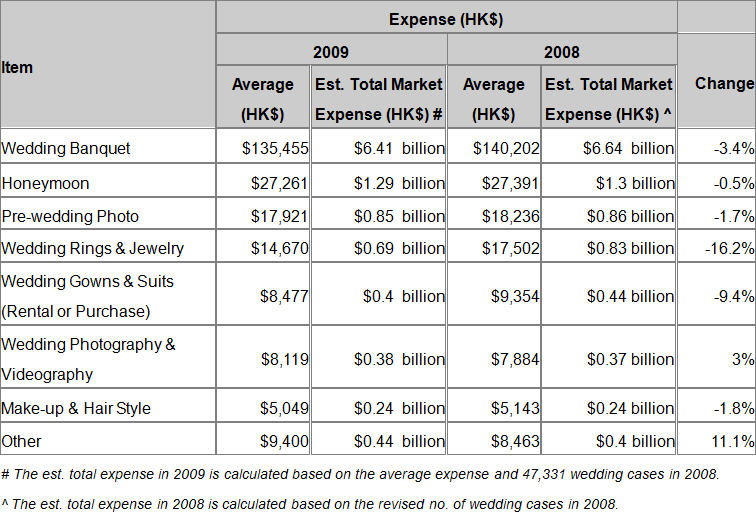 – END –