ESDlife Announces Survey Results of Hong Kong Wedding Spending 2012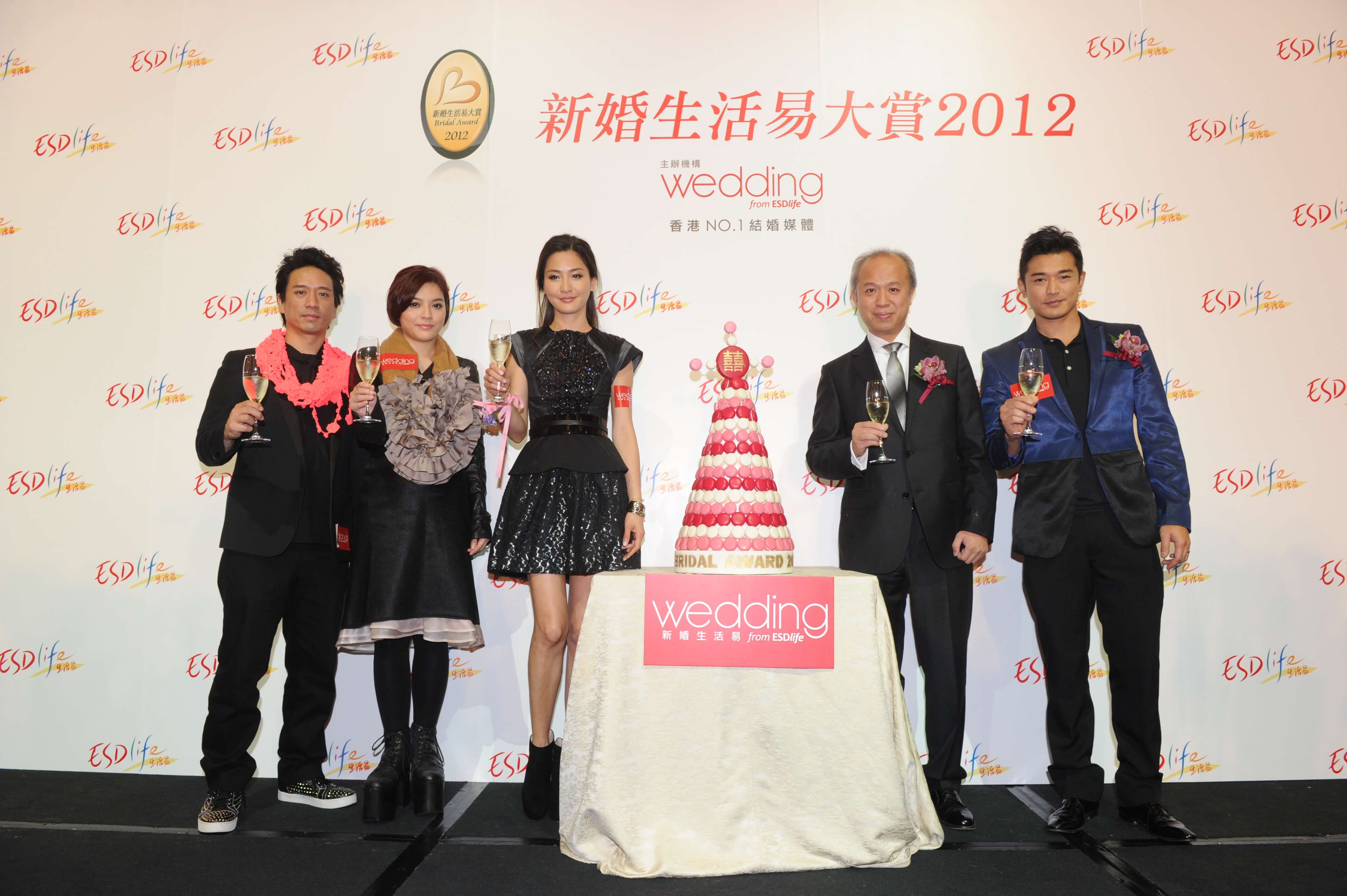 Overall Wedding Expenditure Hits a New Record of $16.5 Billion
Average Spending of Each Couple Reached $282,317
First-ever Release of Spending on Cash Gift $8.7 Billion
One-Third 'Lose Money' in Wedding Banquet
[Hong Kong – 27 November 2012] ESDlife, Hong Kong's No.1 wedding information medium, hosts the "Bridal Award Ceremony 2012" for the eighth consecutive year to recognize the outstanding wedding service providers in Hong Kong. During the same event, ESDlife also releases the findings of Wedding Survey 2012, which presents the investigation on the spending behavior and the average wedding expenditure of wedding couples.
Wedding Couple Spends $282,317 on Average Increased by 35% in six years
According to ESDlife Wedding Survey 2012, both the average wedding expenditure and the total wedding consumption in Hong Kong has again reached a new high. The estimated average wedding expenditure is $282,317, 6% higher than last year's figure. Except the financial crisis in 2009, there is a steady increase in wedding expenses in the past 6 years. The average wedding expenditure for a couple has risen enormously by 35%, from $209,298 in 2007 to $282,317 in 2012.
A Record High of $16.5 Billion in Total Wedding Consumption
Using the data from Hong Kong Statistics and Census Department of 58,400 new couples in 2011 as a base, the estimated total wedding consumption in 2012 has again recorded a new high of $16.5 billion. According to the survey, Wedding Banquet is still the top spending among all expenses, with an average of $147,173, and the total market consumption is forecasted up to $8.59 billion. Ring and Jewellery (average spending of $43,323) and Honeymoon (average spending of $34,339) ranked second and third, the estimated total market consumptions are $2.53 billion and $2.01 billion respectively. Additionally, Pre-Wedding Photography comes fourth where each wedding couple spends an average of $20,969, leading to the estimated total market consumption of $1.22 billion. The top four spending compose 88% of the total expenditure of the wedding couple.
More Caution on One-off Spending Leading to a Decreasing Growth in Relative Expenditures
Comparing to 2011, there is only a 1% increase in spending on Wedding Banquet. This reflects the couples are more cautious towards spending on Wedding Banquet. Results indicate that couples have changed and acted more economic wise. There is a 6% decrease in evening wedding banquet, but a 3% increase in afternoon wedding banquet. Besides, 59% of wedding couples choose to have their wedding banquet in a restaurant, and only 41% of them will have it in a hotel or a clubhouse. The average number of tables in a banquet has also reduced from 21 to 20. On the other hand, average expenditure on Honeymoon is about the same when compared with last year, and the spending on Pre-Wedding Photography has only risen by 2%. The findings suggest that the wedding couples, nowadays, have a more cautious spending behavior than past years, and this also indicates that they will take into account to their own financial situation.
Large Spending on Ring and Jewelley as a Way of Long-term Investment
Among the top four wedding expenditures, spending on Ring and Jewellery has increased by 39%. Together with the persistently high gold price and the increase attractiveness of buying gold and jewellery as an inflation hedge, this area of spending has become one of the largest parts of the wedding expenses. Besides, there is a 17% increase in Wedding Recording and Photography expenditure, average expenses of $10,832 per couple. Some couples even willing to spend more money by having their wedding shooting in overseas, this will explicitly lead to an increment in their wedding budget.
'The new high record in total wedding consumption indicates that couples are willing to spend as always. However, the research also suggests that there is a shift in consumer behavior from Honeymoon, Wedding Banquet and Pre-Wedding Photography to Ring and Jewellery. This trend means that, nowadays, the wedding couples attached more importance to inflation hedge rather than just a short term enjoyment.' Mr. Jeremy Mou, Research Manager of ESDlife, stated.
2012 Market Guideline of Cash Gift: $500 / $800 Hongkongers Spend $8.7 Billion
The research also aims at understanding the market price and total spending of Cash Gift for 2012. Taking the average of 12 people for a table, with 20 tables in total in a banquet and using the standard cash gift value (Hotel: $800, Restaurant: $500) proportionally, the total estimated spending on cash gift hits $8.7 billion in 2012. (See appendix 4)
One-Third of the Wedding Couples 'Lose Money' as Cash Gift stay
According to our findings, cash gift of $800 or $1000 represents the standard average price for attending a hotel banquet, and $500 or $700 is for attending a restaurant banquet (difference in price depends on the quality standard of the venue). Our research shows that one-third of couples pay more for their own wedding banquet than they can receive for cash gifts, a phenomenon of "losing money". Therefore, couples should understand their financial situation when deciding the banquet venue and size if they do not want to face any financial challenges.
35% Delay Their Wedding due to Overspend Approximately 60% of Wedding Couples Overspend
Even though new couples are more cautious in spending than before, there are still some overspent their budget. Our research shows that 58% of couples overspent their wedding expenditure, and among the 62% spent 20% more than they expected. Besides, it is worth noting that 11% even spent 50% more than they previously imagine. 35% of the respondents delay their wedding due to various financial matters. Hence, a more consolidate financial base is needed for the couples who are planning to get married.
"We believe that it is important to have a concrete concept on financial planning before getting married. As we both have our saving targets and plans, we managed to spend just enough for what we needed for. In the contrary, lots of couples had a mindset for a perfect wedding. In this case, they might easily be tempted to spend more just because they found a prettier wedding gown or a more professional photographer or make-up artist. Therefore, it is a must to know your bottom line and learn how to be a smart customer", said by Sammi and Alec, winners of the Newlywed Award 2012.
Photo Captions
1. Mr. Tony Ma, CEO of ESDlife, announced the wedding expenditure results of this year wedding survey and analyzed the future trend of the wedding industry.

2. Sammi and Alec, winners of the 'Newlywed Award 2012', discussed and shared their opinions on cash gifts and wedding spending.
– END –