ESDlife Announces Survey Results of Hong Kong Wedding Spending 2013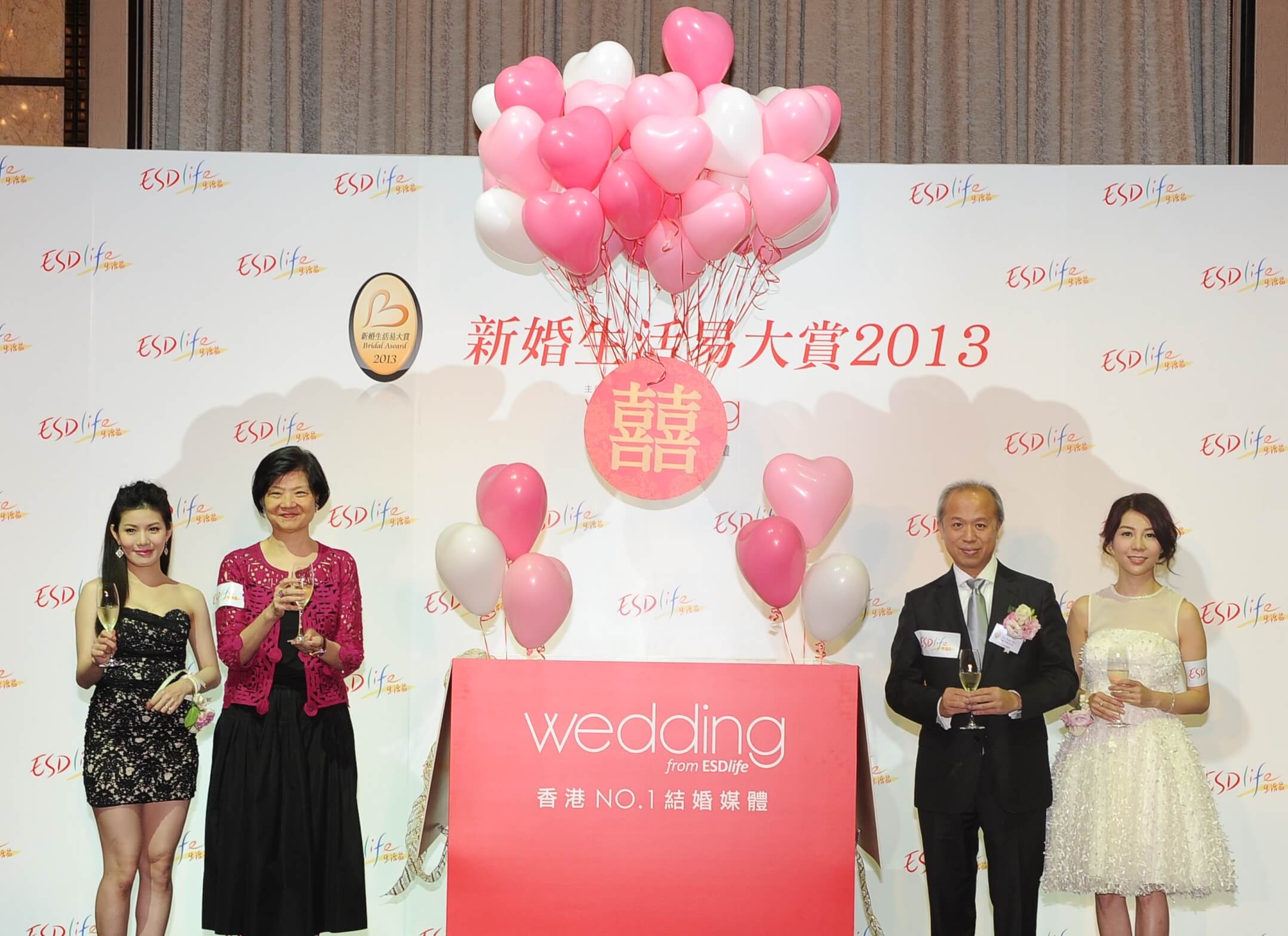 Overall Wedding Expenditure Hits New Record of $18.3 Billion
Average Spending of Each Couple Reached over $300,000
65% Pre-wedding Couples Are Stressed-out
Conflicts and Avoiding Marriage Occur
[Hong Kong – 29 October 2013] ESDlife, Hong Kong's No.1 wedding media, hosts the "Bridal Award Ceremony 2013" for the ninth consecutive year to recognize the outstanding wedding service providers in Hong Kong. During the same event, ESDlife also releases the findings of Wedding Survey 2013, which presents the investigation on the spending behavior and the average wedding expenditure of wedding couples.
Wedding Couple Spends $302,590 on Average Increased by 34% in five years
According to ESDlife Wedding Survey 2013, both the average wedding expenditure and the total wedding consumption in Hong Kong has again reached another new high. The estimated average wedding expenditure is $302,590, 7% higher than last year's figure. There is a steady increase in wedding expenses in the past 5 years. The average wedding expenditure for a couple has risen greatly by 34%, from $226,352 in 2009 to $302,590 in 2013.
A Record High of $18.3 Billion in Total Wedding Consumption
Using the data from Hong Kong Statistics and Census Department of 60,459 new couples in 2012 as a base, the estimated total wedding consumption in 2013 has again recorded a new high of $18.3 billion. According to the survey, Wedding Banquet is still the top spending among all expenses, with an average of $157,187, and the total market consumption is forecasted up to $9.5 billion. Ring and Jewellery (average spending of $47,116) and Honeymoon (average spending of $36,854) ranked second and third, the estimated total market consumptions are $2.9 billion and $2.2 billion respectively. Additionally, Pre-Wedding Photography comes fourth where each wedding couple spends an average of $22,747, leading to the estimated total market consumption of $1.4 billion. Same as last year, the top four spending compose 88% of the total expenditure of the wedding couple.
65% Pre-wedding Couples are Stressed-out
Due to the enormous increase of wedding expenditures, 65% respondents state that they face different kinds of problems. 73% of them have arguments, 36% even think of avoiding marriage and 19% would like to postpone the marriage. Some of them have to borrow money from friends, family members or apply personal loan from banks or financial institutions to support the wedding.
"Perfect wedding is the dream for many couples. But economic burden and tedious issues would separate the couples apart. We had our difficult moments and once wanted to a runaway bride. But, at the end, we chose to solve the problems with our hearts, be frank and honest. Also, we hire a professional wedding planner who helps for negotiation and acts as a buffer so as to reduce our conflicts", said by Ivy and Olun, winners of the Newlywed Award 2013.
First Year Recorded Decrease of Restaurant Banquet Since 2009
Chinese restaurant had always been a popular wedding banquet choice, but this year recorded the first time drop in the past 5 years, down from 59% in 2012 to 54% in 2013. In the other hand, more couples tend to choose hotel, clubhouse and other wedding venues which lead to an increase from 41% in 2012 to 46% in 2013. Mr. Jeremy Mou, Research Manager of ESDlife states that "We believe the decrease of restaurant banquet might due to the increased charge of quality restaurant and is getting close to standard hotel now. In addition, the establishment of different new hotels in recent years provides more options to the couples so they would choose hotel banquet that provides all-round services with outstanding brand image."
2013 Market Guideline of Cash Gift Quality Restaurant Catches up with Standard Hotel
The research also aims at understanding the market price of Cash Gift in 2013. The median cash gift of quality hotel, standard hotel and standard restaurant remains unchanged as $1000, $800 & $500 respectively. It is worth noting that the cash gift value of quality restaurant increased from $600 in 2011 to $800 in 2013, which is same as that of standard hotel.
Expenditure Sharing Golden Ratio : Grooms and Brides 2:1
According to the previous wedding spending surveys, starting from 2009, the expenditure ratio between the couples is 2 to 1, indicating the groom bears 2/3 and the bride bears 1/3 of the spending, this set as the expenditure golden ratio. Although the wedding expenditure is high, most of the grooms take up the traditional responsibility for sharing more spending. Grooms are responsible and willing to spend more for their beloved.
Proposal in Romantic Winter
The romantic winter is coming and let's take the opportunity to express your love. The research reveals that 38% of interviewees proposed to their love during winter. Believed the traditional romantic season and festivals like Christmas, New Year Eve and Valentine's Day would be the best time to propose. Also, ladies are more appealed to special festival and expect "Surprise". So a good planning of proposal would have a higher chance of success. The second best proposal season is autumn which is 25%, followed by spring and summer is 20% and 17% respectively. Therefore, if you are planning to propose, seasonal effect will be crucial to your success.
– END –