wedding.ESDlife Announces Survey Results of Hong Kong Wedding Spending 2014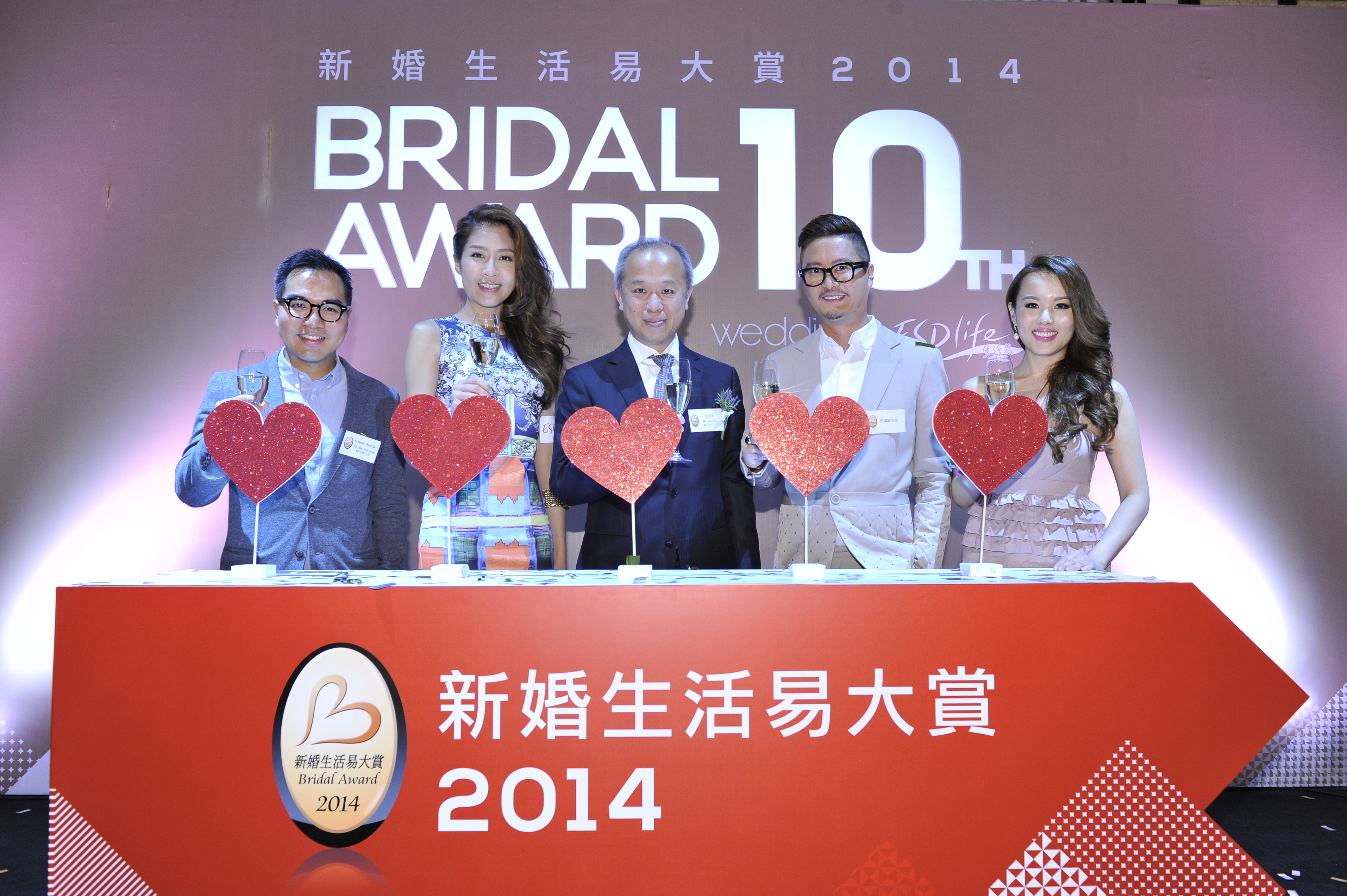 Overall Wedding Expenditure Reached $17.2 Billion
Average Wedding Spending Hits a New Record of $311,887
Minimum Cash Gift Rises to $600 Average Betrothal Money $50,000
[Hong Kong – 17 November 2014] ESDlife, Hong Kong's No.1 wedding media, is hosting the Bridal Award Ceremony for the tenth consecutive year, in recognition of high quality wedding service providers and brands in Hong Kong. During the same event, ESDlife also releases the findings of Wedding Survey 2014. An online survey was carried out from 1,771 marrying couples who are getting married from 2014 to 2016, the results reveal the spending behavior and the average wedding expenditure of wedding couples.
Wedding Couples Spend $311,887 on Average Increased by 30% in Five Years
According to ESDlife Wedding Survey 2014, average wedding expenditure in Hong Kong has again reached a new high. The estimated average wedding expenditure is $311,887, 3% higher than last year's figure. In the past five years, there is a continuous steady rise in average wedding expenses. The average wedding expenditure for a couple has risen enormously by 28%, from $244,121 in 2010 to $311,887 in 2014.
Exceeded 17.2 Billion in Total Wedding Market Expenditure
Due to the belief that the Year of the Snake is not a good year for marriage in traditional Chinese culture, the total number of marriages decreased by 8.5% in 2013 compared to 2012. According to Hong Kong Statistics and Census Department, there are a total of 55,300 pairs of newlyweds in 2013. Based on this data, the total amount of wedding marketing expenditure in 2014 is expected to exceed $17.2 billion. Most of the expenditures remain at the same level while Wedding Banquet is still the top spending item among all. With an average expense of $159,519 per couple, the total market consumption is forecasted up to $8.8 billion. Ring and Jewellery (average spending of $51,081) and Honeymoon (average spending of $38,408) ranks second and third, the estimated total market consumptions are $2.8 billion and $2.1 billion respectively. Additionally, Pre-Wedding Photography comes fourth where each wedding couple spends an average of $22,635, leading to the estimated total market consumption of $1.2 billion. The top four spending compose 87% of the total expenditure of a wedding couple.
Wedding Couples Successfully Lowered Average Betrothal Money to $50,000
Betrothal Money has long been a concern for pre-wedding couples. While some bride's parents want as much betrothal money as possible, the couples might wish to lower it to ease their financial burden. This causes couples to negotiate with parents and sometimes leads to arguments. With this bargaining trend, the average betrothal money amount decreased from $58,705 to $49,679 in 2014, more than 15% drop since 2009.
"Since many couples negotiate based on the amount their parents asked for, by revealing the most updated average amount of betrothal money ($58,705). It serves as a benchmark for couples. Hopefully this can make negotiation easier and reduce conflicts between the parents and the couples", said Ms. May Chan, Content Manager from ESDlife.
Minimum Cash Gift Rises to $600 Wedding Couples Get 70%
The research also aims at understanding the market price of Cash Gift in 2014. The median amount of cash gift for quality hotels, standard hotels and quality restaurants remains unchanged as $1000, $800 & $800 respectively. It is worth noting that the cash gift amount for standard restaurants increased from $500 to $600 in 2014, which marks the first increase since 2009. From now on, the "official minimum amount" of cash gift has risen to $600. For the distribution of cash gift revenue, on average 70% goes to the wedding couples while the bride's family and the groom's family takes 17% and 13% respectively.
$2,328 Red Pocket for Bridesmaids 6 Bridesmaids and 6 Groomsmen
When preparing for weddings, one of the most important tasks would be the search of bridesmaids and groomsmen. According to our survey, the average number of both bridesmaid and groomsman are 6 ( maid of honour and best man included). There was a viral case on the Internet earlier, in which the bride and the bridesmaids had a huge argument on red pocket via text messages and social media. Hence, the couples in the survey were being asked to provide the amount of red pocket they prepared for each bridesmaid. It shows that the median amount of red pocket that each bridesmaid can get is $388; using the average number of 6 bridesmaids to project, we can deduce that each couple has to prepare $2,328 of red pocket.
Over 50% Choose Banquet without Shark Fin 94% Support Food Recycling
Wedding banquet has long been the top spending item. Regarding to banquet menus, over half of wedding couples (52%) choose shark-free menus this year which shows a rising trend for environmental friendly awareness. 70% of couples chose menus with shark fin dishes in 2011 but it has dropped to 48% in 2014, a 22% decrease.
Besides, 94% of wedding couples support food recycling in wedding banquets. This shows most couples wish to minimize waste and support giving leftover food from banquets to people in need on their big days.
The Most Popular District for Wedding Banquet- Tsim Sha Tsui
The spending on wedding banquet is huge. Hence, wedding couples normally pay extra attention when choosing the banquet location. According to our survey, 38% of couples choose Tsim Sha Tsui, making it the most popular district; while 9% of couples choose Causeway Bay and Wan Chai district, making it rank the second. Following districts are East Kowloon (Kwun Tong, Ngau Tau Kwok, Kowloon Bay, etc.) , Central and Western District (Central, Sheung Wan, Admiralty), and next, MongKok and Prince Edward District.
– END –